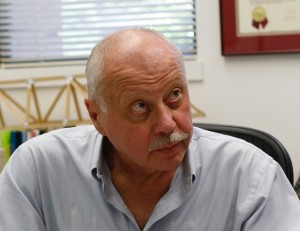 Clive Dym was Professor Emeritus of Engineering at Harvey Mudd College. While he spent much of the early part of his career as an engineering professor, Dr. Dym's work in the field of engineering education started when he joined the faculty of Harvey Mudd in 1991. Through his work in revamping a freshman design course at Mudd, he became a significant voice in the movement to teach engineering design in the first year. As part of this work, he initiated the collaborative network that developed into the Harvey Mudd Design Workshops.
The profile below was authored by Rachel McCord, Virginia Tech, based on an interview with Dr. Dym in 2014.

Dr. Clive L. Dym (1942–2016)
Professor Emeritus of Engineering
Harvey Mudd College
B.C.E., The Cooper Union, 1962
M.S., Applied Mechanics, Polytechnic Institute of Brooklyn, 1964
Ph.D., Aeronautics and Astronautics, Stanford University, 1967
From engineering educator to engineering education
In graduate school, I made the decision that I wanted to follow the path of an academic. I started my career as an engineering educator because I enjoyed the mechanics research that I was engaged in and I wanted to teach engineering. But when I started teaching, we did not have a lot of the terminology that we have today. We didn't know about problem-based learning or experiential learning. We walked into the classroom, we taught, and then we went back to our offices. It wasn't until 1991, when I was asked to join the faculty at Harvey Mudd College, that I entered the world of engineering education as we know it today. Moving to Harvey Mudd was a big change in orientation for me. Before moving to Mudd, I was a member of the research-oriented faculty at the University of Massachusetts, Amherst, for a number of years. This transition meant I was moving from the world of various R1 universities to an undergraduate teaching institution. Moving to Harvey Mudd was the start of my transition into engineering education, which really solidified when I started the Harvey Mudd Design Workshops.
Articulating and teaching design
I have always been interested in design. From very early on in my career, I loved streamlined shapes, nice designs, devised gadgets — it always interested me to know how people developed the designs that they came up with. In the mid-1980s, I became interested in artificial intelligence after a lecture on expert (knowledge-based) systems by a long-time friend and former Carnegie Mellon colleague, Steve Fenves. As part of this interest, I spent a year at Xerox's Palo Alto Research Center working on starting one of Xerox's first expert systems. This project was focused on paper-handling devices, as paper handling is a critical process in copy machines. While attempting to model and design this paper-handling process, I had my first realization that you could actually articulate the specific steps of the design process. With that, I then realized that if you could articulate a design process, then you could teach it.
Much of my early experience with design in the engineering disciplines at several R1 universities was with departments that would "teach" design, which was then invariably done in upper division or capstone courses. Their idea of teaching design was to give students a project to work on but provide little to no training on what design actually looked like. Design was taught by just doing it. Students were taught about time constraints and budget constraints. But there was little discussion on what constituted the design process. My time in Palo Alto really forced me to start thinking about the intellectual processes that occur during design and the subject matter that could be taught to lead students through the design process. I was further challenged to articulate this process while writing a book with Ray Levitt on expert systems. (By the way, there weren't many engineering faculty interested in AI applications then, and only a few AI and computer science folks were interested in engineering design, like Dave Brown.)
The uphill battle of teaching design to freshmen
One of my primary responsibilities when I was first hired at Harvey Mudd in 1991 was to revamp a freshman projects course that had come to be in disrepair. Up to that point, students were just assigned projects to work on, but there was no formal process for teaching design. Many times, the projects that were given to student groups were made up by faculty members. As part of my work, we began providing students with formal lectures on the design process. Students were taught about objectives, functions, constraints, and a lot of the other terminology in design. We also taught students the importance of communication in the design process. Not only did we focus on teaching the design process, but we also started engaging students with real clients in their projects. For example, students worked on a design for a young girl with cerebral palsy who wanted to play a musical instrument. The students really like those projects, because they enjoyed dealing with the issues and the people. They liked feeling like they were doing something useful.
When I would go speak about my work in teaching design to freshmen, I encountered some excitement, but I also experienced my share of opposition to this idea. At the time, the idea of teaching design to freshmen was fairly controversial, even at a place like Harvey Mudd. Some of the opposition said, "You can't teach design. You just do it and learn from doing it." Still others said, "You can't teach design to freshmen. They don't know anything." But what I knew was that you could teach design, and you could teach it to freshmen. I had to convince these people that, not only was there substantive material to teach on design, but that you could teach this process at a high level to freshmen, and it could help them throughout their engineering curriculum. Convincing the community that teaching design to freshmen was a good idea was an uphill battle.
Gaining traction in teaching design in the first year
Though I met a lot of resistance in the beginning, teaching design in the first year gained traction. In fact, I am proud to say that now about half the engineering campuses across the country teach some form of freshman design. Getting to this point was a team effort. There were so many people in the community that banded together to get us where we are today. People like Sheri Sheppard, Alice Agogino, Jim Dally, George Dieter, and Greg Olson were a few of those who were instrumental in helping push this movement forward.
My experience was that is was the younger faculty members that were more supportive of these efforts. This is not to say that more experienced faculty presented all the opposition. It seemed as if the younger faculty who weren't so preoccupied by their research were the ones that were more interested in contributing to the undergraduate experience. These faculty members were the ones who, while interested in their own research, were focused on supplementing their undergraduate students' learning by engaging them in research. I think there are a lot of these types of young faculty members and future faculty members out there today. They are interested in teaching and the undergraduate experience. They want a different career than their advisors had; they want something more than just research when they go into an academic career. And that is really promising, because I think there are many more opportunities to create a career like that today. There are places like Harvey Mudd and Olin that provide an opportunity for a very engineering-education-focused career. And there are also a lot of faculty members that are set to retire soon. So, there is a lot of opportunity to build an engineering education career over the next few years.
Building a community of design educators
The design education community has been really critical in getting us to where we are today and will continue to be critical in the future of engineering education. This community really grew as a group of people that were just interested in talking about design in engineering education. After a summer National Science Foundation workshop in the early 1990s, I started to run into the same people at different events. I found that these people were really passionate about design and education: people like Alice, Greg, and Sheri, as well as Cindy Atman, Phil Doepker, Chris Magee, John McMasters (since deceased), and John Wesner—again, to name just a few. We started talking and began to organize the Harvey Mudd Design Workshops. And this created a space for the community to talk about design and education.
Making a lasting impact
I do not really know what it is about my own work that has had an impact on other people. You'd have to ask other people what really meant something to them. But I can tell you that I think my willingness to go talk about this work enthusiastically to other people had an impact. In the face of some significant opposition, I continued to push forward with the idea that teaching design to freshmen was what we should be doing in engineering education. And because I was able to speak passionately and enthusiastically about what I was doing, I was able to convince others to come along with me.
When thinking about making a lasting impact in your own work, I do have some advice. Instead of focusing on the impact that you'll have or the reputation you'll have with others, I think it's really important that you do things that you're interested in or are passionate about. When you work hard and are passionate about something and can convey that passion to other people, that will have a lasting impact. If you're doing the right stuff, it'll come to you.
Reflecting on this pioneer's story…
Dr. Dym noted that it took a team effort for his ideas about teaching to "gain traction." Who are you teamed up with to advocate for the teaching ideas or practices that you believe in?
Photo provided by Dr. Dym.