Upcoming Events:
Events we will host in Spring quarter 2018:
Math/Stats Review Seminar
At the beginning of each quarter, the EUB puts on a math/stats review seminar with two sessions: one focuses on concepts needed for Economics 200/201 and the other on skills that apply to Economics 300/301. If it has been a long time since you've taken a math/stats course or you just need a refresher, this is a quick way to get up to speed. Our review session of Spring 2018 will be host on April 5th in Denny Hall 259 at 6:30 PM.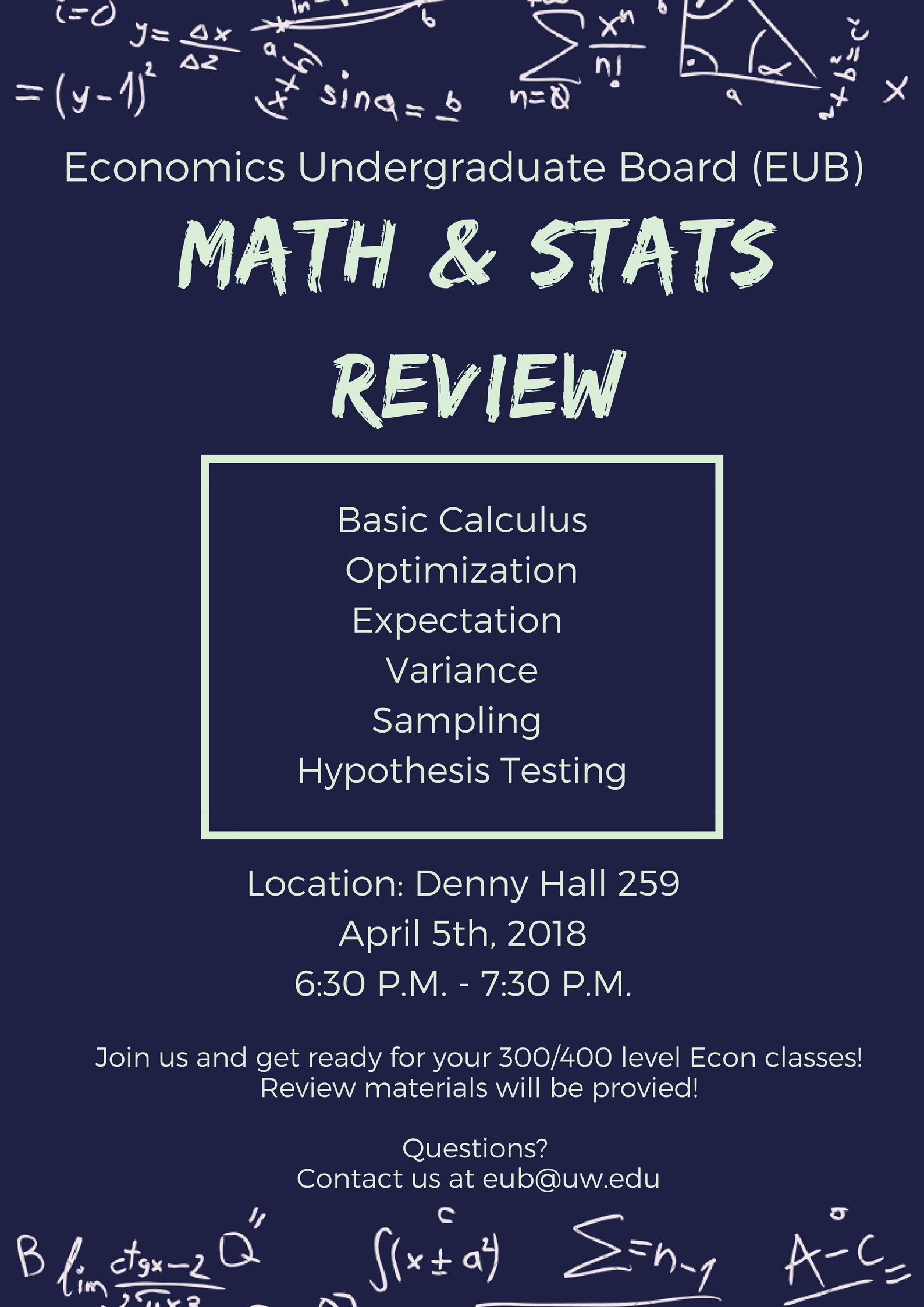 Economics Class Seminar
Come out and hear about the variety of classes offered in the economics department from a student perspective! Together our presenters have collectively taken nearly every class available in the department. Get valuable insights before you register for classes. Ask questions about what is taught in these classes and how to choose what classes to register for. Seminar will be hosted on Thursday May 3rd from 5:30 to 6:30 PM in SAV 158. Refreshments are provided!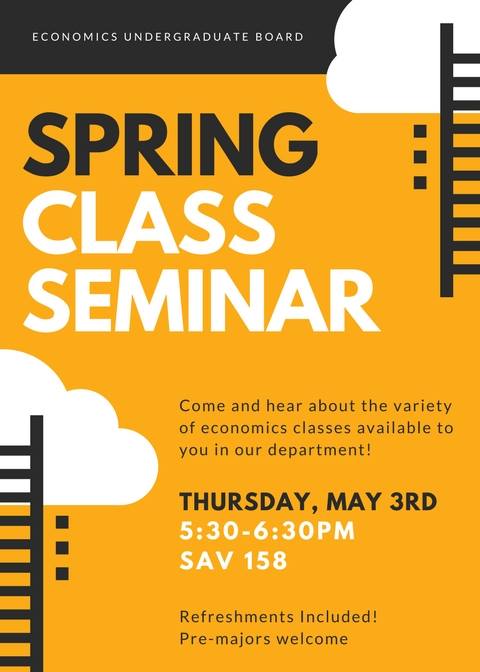 Career Seminar
Want to know more of what you can do with your Economics degree ? Come join us again for this quarter's career seminar where we explore the law industry with two professional lawyers to give a talk about having a career in Law and Economics. If you are interested in going to law school, having a career in law or just wanted to talk to a lawyer then wait no more ! This is your chance to engage with real time professional lawyers! Come join us on Thursday, April 26th, at 6:30 PM in Savery Hall 130. Refreshments will be provided.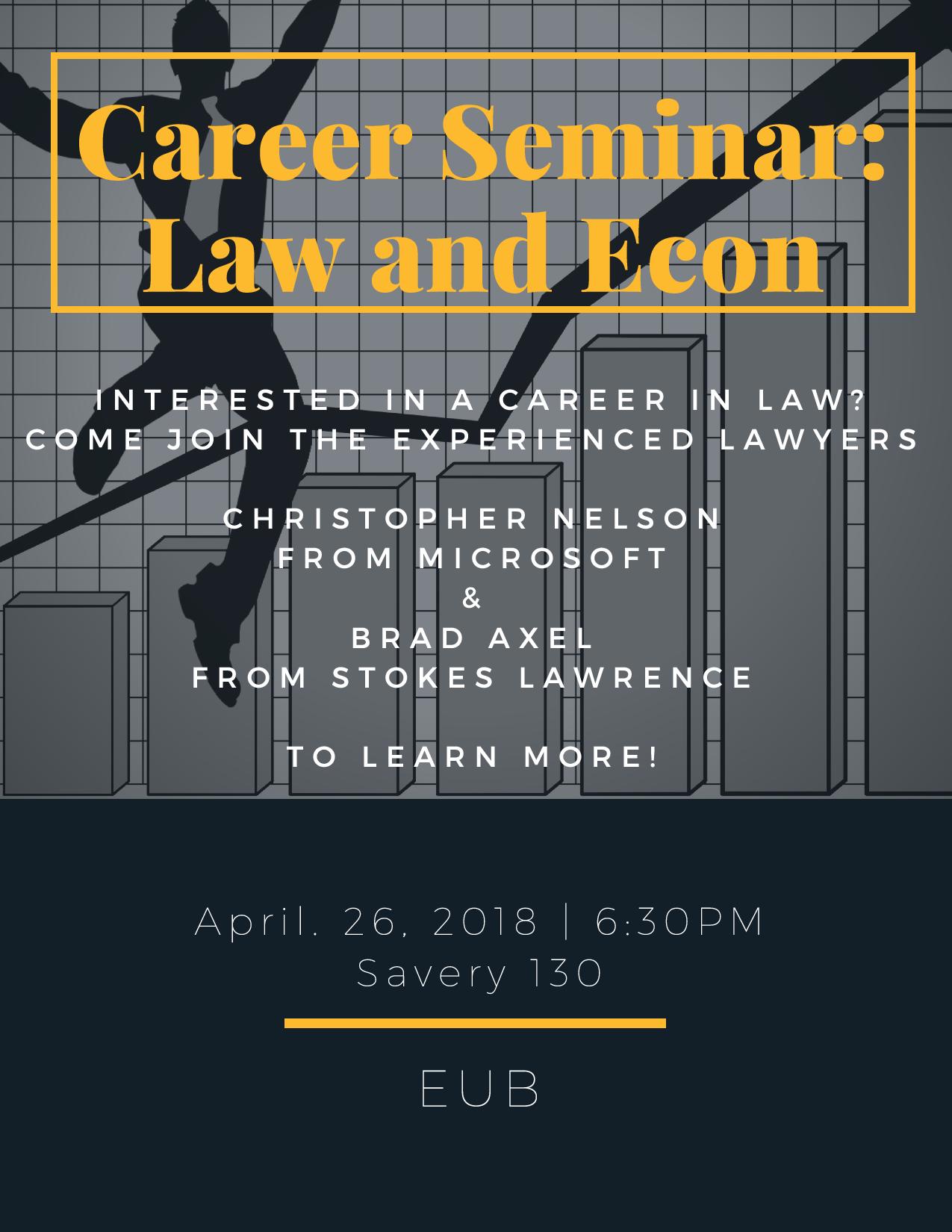 The Paul Heyne Lecture
We will hosting our Spring 2018 Paul Heyne Lecture on Thursday, May 17th from 6:00 PM to 7:30 PM at EEB 105.The topic of this time is The Role of Health Economics in Advancing Global Health and the Sustainable Development Goals. The lecture will be presented by Professor Carol Levin from the Global Health Department. Don't miss it if you are interested in learning more about the interaction between health economics and sustainable development. FREE pizza will be provided at the event so make your way to our event next Thursday!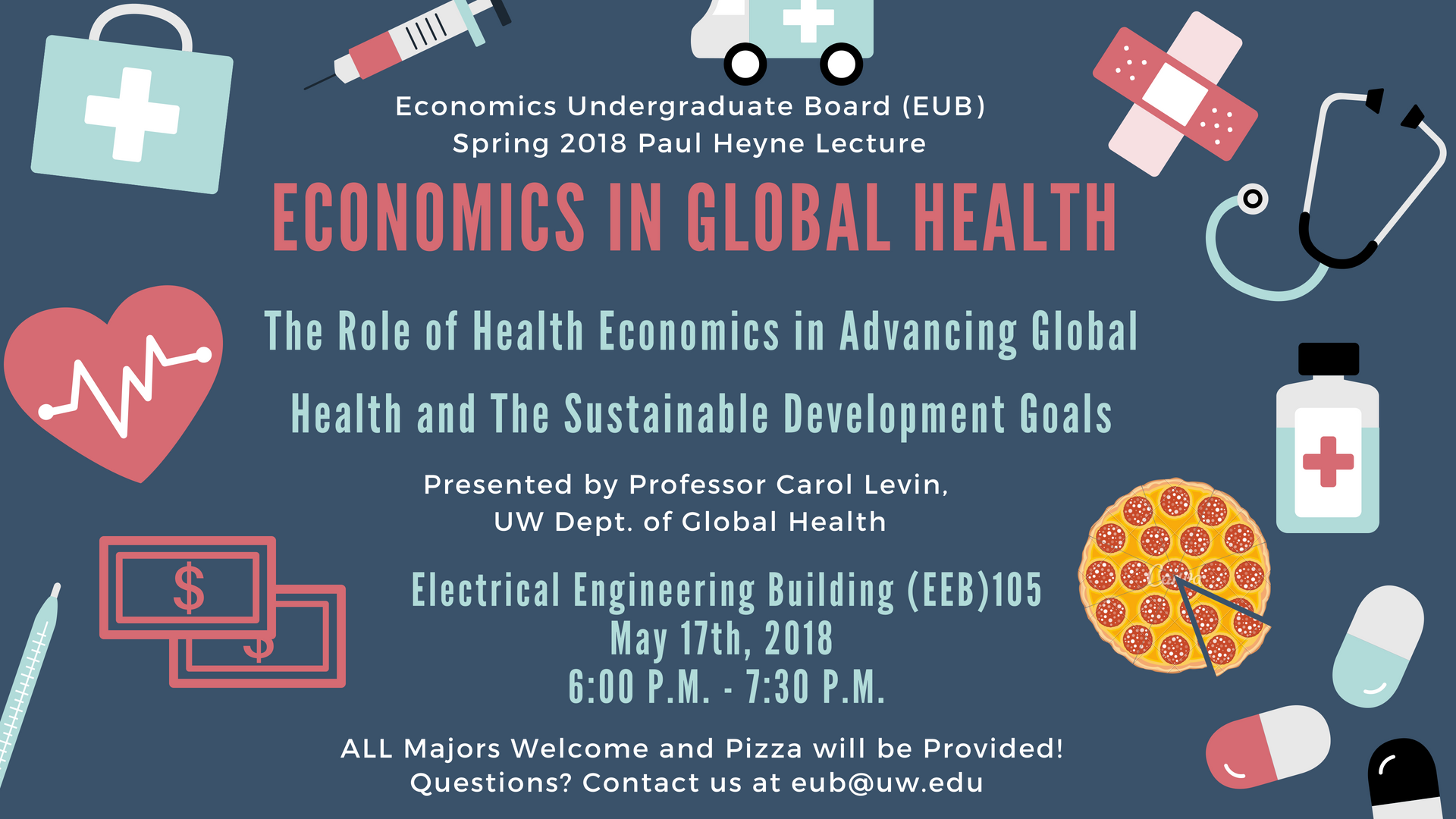 Graduate School Seminar
The graduate school seminar, offered every quarter, is designed to help students who are interested in or currently applying to graduate school in fields typical of economics majors. Get your questions about Economics graduate school admissions answered from an Econ professor (Prof.Jacques Lawarree) and Economics graduate student at UW. Our speakers from the Economics Department are very eager to share their experiences being involved in research and share their graduate school journey with you! Meet us on May 15th, 6:30 PM at SAV 131! Refreshments will be served!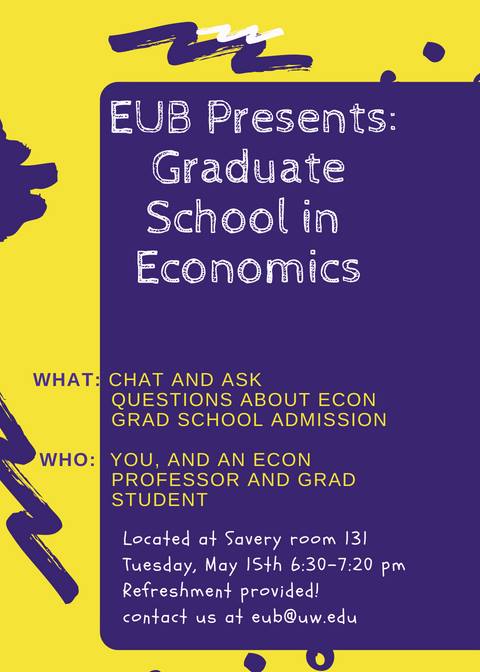 Below is a description of the events we regularly host:
Free Tutoring
The EUB provides free tutoring hours daily for Econ 200/201 and Econ 300/301. Many tutors are also willing to help with specific 400-level courses that they have taken. See tutoring schedule for more information!
The Economizer
This is the EUB's quarterly newsletter, written by our very own members. Topics vary, so pick up a copy at the end of each quarter in the main office or read it online!
Annual Departmental Survey
The EUB surveys students in 300 and 400-level courses each year to find out more information about student concerns and trends. Results are available online.
All schedules for events will be sent to the econmajor listserv, as well as being posted on our website and advertised by professors. Keep your eyes out for these great opportunities!