We are an interdisciplinary discussion group interested in the ways science and society impact each other. We host events to bring our University community to share ideas and concerns about topics related to modern biological research. Check out our event schedule. Events are all open to any interested members of the UW community. No need to register in advance! Questions? Then get in touch with us here. The GS organization team are a friendly bunch of grad students and postdocs from across the UW bioscience departments. We'd love to hear from you!
Our commitment to anti-racism:
To fellow educators: we held a moment of silence at last week's event to honor Breanna Taylor, George Floyd, and the many others who have been killed in acts of anti-Black police violence. In addition, we honored the past, current, and future fight against structural racism in the US. We encourage that you do the same. It must be our duty, and core to our philosophy, that we create anti-racist teaching and learning spaces in our own department and in others.
To fellow geneticists, academics, salon-goers: let this be a moment to turn inwards as well. As geneticists, we have a particular responsibility to fight racism, white nationalism, and fascism. Our field has a brutal history of eugenics and our research continues to be used to perpetuate white nationalism and racial violence (see: Dr. Rori Rohlf's recent essay, Drs. Jedidiah Carlson and Kelley Harris's preprint). The experiences shared by Black people in academia via the tag #BlackintheIvory exemplify how racism is deeply ingrained at all levels in our institutions (see: Dr. Jasmine Robert's recent essay).
Our work should absolutely involve supporting broader efforts to fight structural racism: donate to causes, show up to protests, support local BIPOC-owned businesses, and more. But our work must also include restructuring our departments, curricula, and research. We are specifically sending this email out today to amplify tomorrow's #shutdownSTEM movement, which calls for a strike in academia and STEM to stand in solidarity with BIPOC, focus on educating ourselves, and make plans to fight racism. Recently, a group of medical students here at the UW implemented a new anti-racism curriculum and successfully pushed against using race as a co-factor in estimating a parameter used to diagnose kidney disease (see thread). These are important steps forward led by trainees; we can make these changes happen.
There is a particularly poignant quote from the #shutdownSTEM front page: "Unless you engage directly with eliminating racism, you are perpetuating it." This serves as a call to action and thus we're announcing several efforts:
1. Creating a toolkit for educators with the resources and lesson plans to quickly adapt Salons that explore racism in genetics, both past and present. This toolkit will be made widely available; stay tuned for more details on this.
2. Expanding on the sections of The Gene that cover eugenics during this summer's book club.
3. Planning events this coming academic year that will continue to explore racism in academia and genomics, plus providing tools to fight racism both within STEM and more broadly.
Please let us know if you want to get involved! Reach out in particular to help out for this upcoming year's programming; we're always looking for more ideas and salon leaders. Until then, please stay healthy, motivated, and focused.
Come to our next event!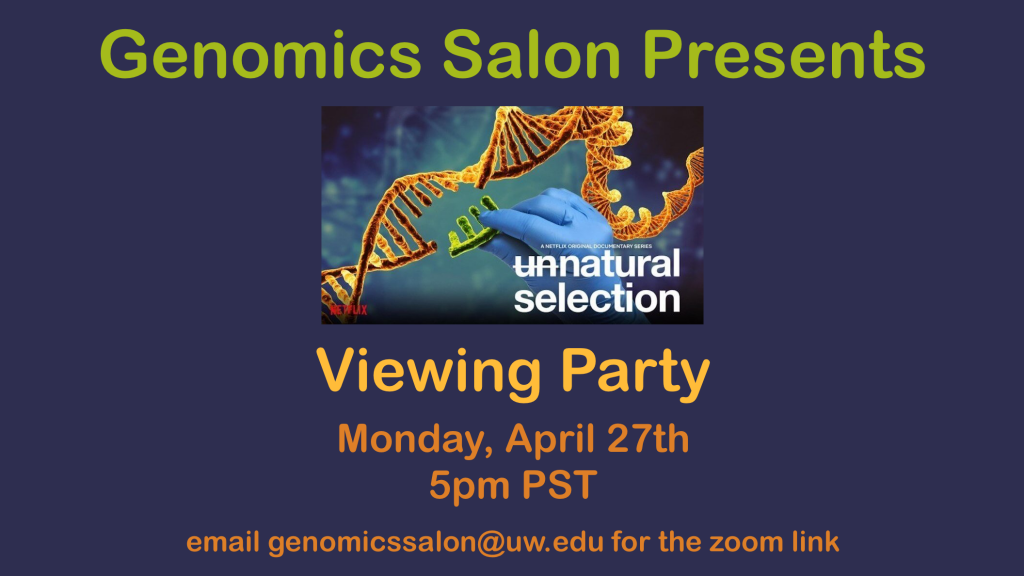 Follow us on Twitter:
Or on Facebook: