Why Health?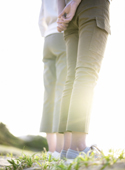 Health is an integral part of every person. Health affects and is affected by, every other aspect of a person's life. Health can be viewed as the foundation on which the student's transition to adult life rests. If health is not addressed, the success of plans for post-secondary education, training, employment and independent living may be compromised.
In order to become as independent as they desire, youth need to learn to advocate for themselves in relation to their health as well as their education or employment. They must learn to speak up, ask questions, and take action. They need to know their own strengths, needs and limits and be able to share them with others when appropriate.
Every person is different and has different abilities. Some will achieve more independence and autonomy than others. Each person needs support and encouragement from both family and school to take each step along the way.
In order to make good decisions, youth need some knowledge of the topic at hand. For example, making good food choices is more likely if the youth knows something about foods that will help them maintain a healthy weight and those that will interfere with maintaining a healthy weight.
Frequent absence from school or work leads to poor outcomes. Consider these examples:

The teen with diabetes who is sick due to poor management of diet, exercise and medication.
The young adult who is absent from class due to neglected maintenance of mobility or communication devices or failure to refill prescriptions in a timely manner.
The teen who can't remain at work for a full shift because he or she has not learned to do self-catheterization.

Attention to health-related learning needs can give teens and young adults the knowledge and skills they need to stay healthy for school, work and having fun. It can also give them confidence in their ability to advocate for themselves.
For more information about health and transition, read a Parent Brief

"What does Health Have to Do with Transition? Everything!", from the Pacer Center and the National Center on Secondary Education and Transition. This article discusses challenges of transition, health and the IEP, key areas of transition, and goals and objectives for health transition.

= PDF file. To view and print PDF files, you must download Adobe Acrobat Reader. Get Adobe Reader