Volume 9, Issue 8 | August 2022

Nikkei Garden Blues: Japanese American Generations
Featuring Michelle Kumata and Kathy Hattori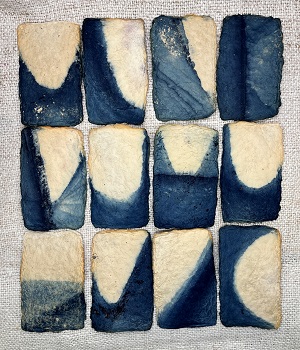 This month in the Miller Library, textile artist Kathy Hattori and painter Michelle Kumata present works that reflect on the past, present and future of the Japanese American community.
Kathy's plant-dyed works
(Process 1
is shown) combine indigo dye with traditional and innovative techniques. Michelle's portraits and mixed media
works
celebrate the resilience of our Nikkei community.
The exhibit is open during Library
hours
. Readers can meet the artists on Thursday, August 4, from 5 to 7 pm.
Ask the Plant Answer Line: marijuana or cannabis?
Researched by Rebecca Alexander
Because societal attitudes change, it is important to be flexible when communicating with each other, and recognize that we do not all feel the same way about words. Delving into the history and etymology of plant names is one way of arriving at a nuanced understanding of why alternative terms might be preferable.
The Great British Tree Biography by Mark Hooper

Reviewed by Priscilla Grundy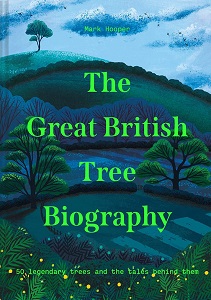 Read this book to have fun with tales, myths, legends, and historical facts about British trees. Mark Hooper says the book aims "to explore the space where social history meets natural history" (p. 9). Along the way he ties events familiar and unfamiliar to many individual trees.
The first short section consists of superstitions and symbolism associated with various types of trees. The birch, for instance, is associated with witchcraft, apparently because household brooms were made of birch twigs bundled with a handle of hazel or hawthorn. Brooms, witches – they go together.


The main body of the book is "An A-Z of British Trees," one- or two-page accounts of fifty individual (or sometimes multiple) trees in England, Wales, Scotland, or Northern Ireland. Most are English. Many of the trees are very long-lived. The Ankerwycke Yew has survived since King John signed the Magna Carta in 1215, supposedly under its branches. Later Henry VIII is rumored to have courted Anne Boleyn in the same spot.


Lest you think these associations are all from long ago, the Bolan Tree, "an unprepossessing sycamore" (p, 42) in London, was the site of a 1977 car crash that killed T. Rex lead singer Marc Bolan when his car collided with it. A statue and a plaque serve as a memorial.


Of the fifty entries on trees, 19 are oaks and nine are yews. Some individual trees are identifiable; some are not. In "The Knole Oak and the Strawberry Fields Tree," an oak on the Knole estate in Kent can only be described as a likely candidate for the oak featured in Virginia Woolf's Orlando. But definitely known is the specific oak on the same estate used in a promotional video for the Beatles' "Strawberry Fields."


Some entries include multiple trees. The account "The 'Trees to Remain'" explains the many curves in the A303 highway by way of a 1969 hand drawn-plan for a bypass marked "trees to remain." The builders just had to bend the highway around the trees. No species names are given.


These sample summaries are enough to whet the reader's appetite. Amy Grimes has illustrated the tales with impressionistic art in saturated hues, adding to the liveliness of these stories.
Search for garden wisdom with us. You'll find researched
answers
,
gardening tips, book reviews, and recommended websites.
© 2022 University of Washington Botanic Gardens