Volume 8, Issue 2 | February 2021

Nature Obscura by Kelly Brenner
Reviewed by Priscilla Grundy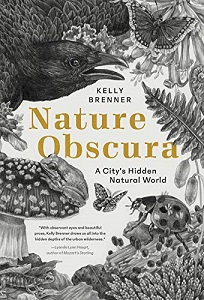 In this second year of seemingly never-ending plague,
Nature Obscura
by Kelly Brenner speaks directly to our condition. What better time to learn the pleasures of urban nature? Even now with some formidable restrictions, we can walk in our neighborhoods and look closely. The book focuses on Seattle, but most of the species described can be found in any city.
Each chapter builds a biography of a different life form, some more obvious, like Anna's hummingbird, and others harder to see, or to see as wondrous, like the algae and insects in Brenner's backyard pond. She even makes slime mold appealing. For that example and several others, the budding urban naturalist will need a hand lens, or in some cases a microscope, to discover the intricacy and beauty of the subject.


In the chapter on dragonflies, Brenner begins by describing an adult emerge slowly from the larva. The description takes you right in: "Then the yellow eyes, still a muted brownish through the skin, begin to move like marbles sliding under a piece of tissue paper. . . Next the adult slides out of the skin as if being squeezed from a tube of toothpaste." The chapter includes the author's visits to wetlands in Eugene OR, discussion of the distressing loss of wetlands in the Puget Sound area, which dragonflies require, and more adventures with these insects at the constructed wetlands at Magnuson Park in Seattle.


Brenner urges readers to pay close attention to what they see around them, to "get their eyes in" to focus on nature. Dr. Seuss's first picture book, "And To Think That I Saw It on Mulberry Street," begins with a boy instructed to watch carefully for surprising things every day on his walk home from school. Seuss's boy imagines fantastic rather than real discoveries. Brenner wants you to see the amazing in what is there in front of your eyes.


The book's cover and a few well done but unlabeled black and white illustrations help the reader visualize Brenner's subjects. Many more would be helpful. Instead, blossoming urban naturalists will need to pursue the excellent bibliography to find images and more information. Each of the sixteen life forms described in the book has its own list of reference works – a gold mine indeed.
Topography by Adrianne Smits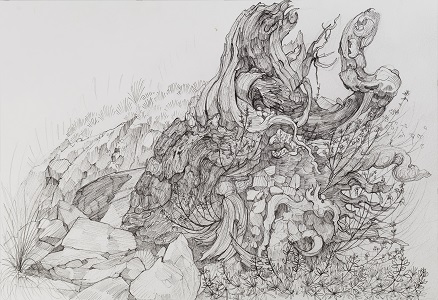 Adrianne Smits moved from Seattle to central California in 2017. In California, as elsewhere on the west coast, wildfire is the most obvious manifestation of climate change, confronting us every year with greater ferocity. She has evacuated her home twice in the last three years due to wildfires, an increasingly common experience in the western U.S. Her recent work focuses on fire in the landscape.


Topography: This series of drawings is an exploration of the organic terrain created by remnants of large trees. Left behind after commercial logging operations, these stump landscapes are simultaneously ghosts of an old forest and substrate for a new one. The burned-out remains of old-growth redwood and Douglas fir, almost submerged beneath debris from second growth timber stands, record both damage and regeneration. The current form of these tree remnants results from a long history — centuries of intentional burns by Native Californians, timber extraction, decay, and re-sprouting. The young forests that hide these older remnants grow more densely than old growth forest, and thus are primed to burn in catastrophic fashion, as they did this summer. The lightning-sparked firestorm that burned 2 million acres in California this past summer, including some of the areas shown in the drawings, started the same day Smits began working on 'Redwoods 9' in Big Basin State Park. How long will this topography last in a warmer, drier future?
Hold everything! Schedule a no-contact book pickup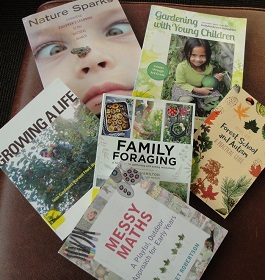 We are now offering no-contact pickup of library books. In order to place new holds, you will need to return all the items you borrowed before the library closure. The book drop in our courtyard is open.
To place a hold, first log into your
account
. Contact us at
hortlib@uw.edu
if you need help with logging in. Search for the books you would like to borrow and place a hold. You will be notified when the items are ready, and we can help you schedule a time to pick them up on a Tuesday afternoon (12:30-2:30 pm) or Thursday morning (10:00 am-12:00 noon).
Search for garden wisdom with us. You'll find researched
answers
,
gardening tips, book reviews, and recommended websites.
© 2021 University of Washington Botanic Gardens