VOLUME 7, ISSUE 1 | January 2020
RetroSuburbia : the downshifter's guide to a resilient future by David Holmgren
reviewed by Tracy Mehlin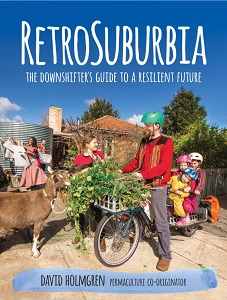 David Holmgren co-created the philosophy of Permaculture while living in Australia in the 1970s. More than just a gardening method, "permaculture could be better described as a design system for resilient living and land use based on universal ethics and ecological design principles." Holmgren writes
RetroSuburbia : the downshifter's guide to a resilient future
from the point of view that the future will become increasingly difficult because of "energy descent" (scarcity) and general global economic depression. However, his tone is optimistic and pragmatic ꟷ he has led a self-reliant life and so can you.
Retrosuburbia
is a thick manual with a philosophical foundation for those wishing to be environmentally conscientious, resilient and self-reliant. Holmgren distills the rationale of his guide as: "… downshifting away from consumption supported by paid work and debt to a culture of voluntary simplicity and permaculture productivity."
The book is divided into three fields: built, biological, and behavioral. Each discussion point draws from 12 permaculture design principles. such as "integrate rather than segregate" and "use and value diversity." These principles have a corresponding icon that is included every time the principle is invoked. ...


The book will be instructive for people concerned about the climate crisis, those wanting to be self-sufficient and even those on a path to FIRE (Financial Independence, Retire Early). There are no suggestions to head for the hills and retreat from society, but instead Holmgren instructs readers how to retrofit urban and suburban developments to support growing food and meeting life's necessities while transitioning away from conventional modes of employment and consumption.
Editor's note: this is an excerpt from Tracy's complete review, published in the Gardening Answers Knowledgebase at www.millerlibrary.org.
Illustrations by Tasha Gross on display this month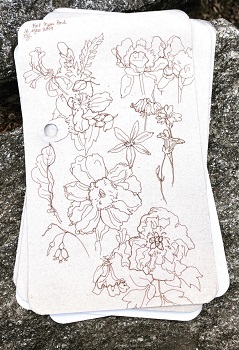 Natural science illustrator, historian, UW Information School student, and Miller Library volunteer Tasha Gross will be our featured artist during the month of January. Tasha is passionate about the use of art to further of science communication and information literacy, and recently published a coloring book entitled
Women in Science: Astronauts and Astronomers
(Pomegranate Communications, 2019)
.
Tasha invites Leaflet readers to the Miller Library for a reception on Thursday, January 9, from 5 to 7 pm.

From the Plant Answer Line: What are chia seeds?
researched by Rebecca Alexander

Question: Chia seeds: what are they, and what are they good for, besides sprouting on clay animals (Chia Pets)? Lately, I'm seeing them promoted everywhere for their health benefits. Is there any validity to this?


Answer: The common name chia refers to several species of Salvia, and to Hyptis suaveolens. The species that is imported into the United States is usually Salvia hispanica. Purdue University's New Crops database has information about the uses of chia seeds:

"The seeds of chias have been eaten for centuries by na
tive North Americans, either raw or parched. They are used in sauces and as thickening agents. When soaked in water the seed envelops itself in a copious mucilaginous polysaccharide, excellent for digestion, and together with the grain itself forms a nutritious food. Mixed with orange juice the gel-like seeds make a nutritious breakfast and can help to control excess weight. Users report that a glass full of orange juice with a teaspoon of presoaked seeds leaves one feeling full and without hunger until noon. The plant explorer Edward Palmer wrote (1871): 'In preparing chia for use the seeds are roasted and ground, and the addition of water makes a mucilaginous mass several times the original bulk, sugar to taste is added, and the result is the much prized semi-fluid pinole of Indians and others, and to me one of the best and most nutritive foods while traveling over the deserts.'"
This is an excerpt. For the full answer, see our Gardening Answers Knowledgebase online.
Subscribe to Leaflet for scholars

The Miller Library publishes another newsletter each month:
Leaflet for Scholars
.
The January issue includes Brian Thompson's
review
of
Flora of the Mediterranean
as well as news about our winter resource display on wildlife study and conservation.
© 2020 University of Washington Botanic Gardens