Volume 10, Issue 5 | May 2023

Essential by Christie Tirado
In the Miller Library through May 27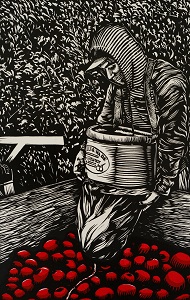 The Miller Library welcomes artist Christie Tirado for a solo show May 1-27. Tirado's artwork revolves around the many diasporas that compose her Mexican American identity. For the past five years, she has centered her artistic practice on creating pieces that articulate the various dimensions that characterize the work of migrant farm working communities in the central region of Washington State. This focus has resulted in an integrated practice that includes an ethnographic dimension in the development of community-based projects and professional service, informing her work as a practicing artist and educator. Inspired by the Mexican tradition of relief block printing, which has historically been used as a vehicle for artistic, social, and political expression, her prints aim to render visible the presence, labor and relevance of populations that have been systematically marginalized from basic social benefits, including representation.
Tirado earned her BA at the University of Washington and her Master in Teaching at Heritage University, and has exhibited her prints widely, with exhibitions at Davidson Galleries in Seattle, SOIL gallery in Seattle, The Sun Valley Museum of Art in Ketchum, Idaho, and La Productora Gráfica del Bosque in Oaxaca, Mexico. She was the recipient of the 2020 Larry Sommers Fellowship through Seattle Print Arts, and her work has been featured in various newsrooms and magazines across the nation, including High Country News, ProPublica and Crosscut. She currently teaches art to K-8 students in Yakima, Washington, and will be attending the University of Wisconsin-Madison in the fall as an MFA candidate in their printmaking program.


To learn more, please visit her website at
christietiradoarte.com
or follow her on Instagram:@Christietirado_arte or Facebook: Christie Tirado Arte. She will also host a reception at the Miller Library on Saturday, May 6, from noon to 2 pm.
Versed in Living Nature: Wordsworth's Trees
By Peter Dale and Brandon C. Yen
Reviewed by Priscilla Grundy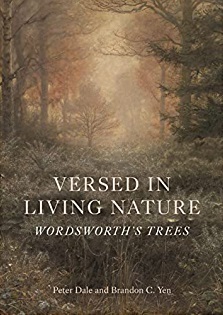 In the preface of
Versed in Living Nature
Dale and Yen describe the contents: "We visit many of Wordsworth's trees and explore their meanings and implications, personal, physical, cultural, religious, historical and political." To their great credit, they do all of that in 320 pages.
The index under "trees" lists 58 varieties, with multiple pages for many, especially the oak and yew. Each tree is located in William Wordsworth's poems. (It helps to have a little knowledge of the poems, but it's not necessary). The trees are also connected to the poet's activities, his schooling, his years in the Lake District of England, his travels. Special attention goes to the people in his life, chief among them Samuel Taylor Coleridge and Wordsworth's sister, Dorothy. Dale and Yen quote her often, reinforcing her importance to his poetry. Among others they meet, the novelist Sir Walter Scott appears almost as a side note during a visit to Scotland. The book is quite a literary Who's Who of the British literary scene.


Adding to the breadth of the book are references to Dale and Yen's visits to Wordsworth sites. In commenting on a scene with four yews in "A Tradition of Darley Dale, Derbyshire," for instance, they note that only three survive today, and they are hard to find.


Very helpful are the contexts in which all these trees are placed. Some are political (e.g., the Napoleonic war), some economic (the Highland Clearances), some literary (the controversy over the Ossian poems).


Wordsworth was also a gardener. At Dove Cottage he "began to learn about gardens not as a gentleman dilettante but as someone who would supply cabbages for the kitchen" (p. 132). He learned enough to gain a reputation as a garden guru, someone sought for advice on horticultural matters.


Building on all the above, the authors develop Wordsworth's ideas and how his trees connect to his understanding of Nature as both physical and transcendent. It's a very impressive accomplishment.
Trends in borrowing from the
Pacific Northwest Connections Collection

Each spring we look at what readers are borrowing, gaining insight into how our collections are used. For this list, we looked only at the Pacific Northwest Connections Collection, where you can find books about the Pacific Northwest and other places around the Pacific Rim, and only at the past 12 months. Books on Indigenous uses of plants, trees, ferns and other perennials, vegetable gardening, and natural science in the city have all been popular. Here are Miller Library borrowers' favorites over the past year:
We hope you'll take a tip from fellow readers and check these out.
Trends in borrowing from the Youth Collection

We are proud to present the top ten books from our Youth Collection (in terms of borrowing) over the past twelve months:
Families and educators can find these and many more favorite titles in the online
catalog
.
Don't miss our 2023 Student Plant Research Virtual Exhibit, featured on the library's website May 4 - June 15. Since 2008, this annual exhibit has shown plant-focused work by UW graduate and undergraduate students. Topics this year include: insights into alpine plant species, the ecological needs of select endangered plant species, increasing ecological literacy through playful edible landscapes, adaptations to the challenges of climate change for horticulture, and more. A reception will be held at the library on Thursday, May 11th from 2-4pm.
© 2023 University of Washington Botanic Gardens