Volume 6, Issue 11 | November 2019

Flora and Fauna of the West
Paintings & Prints by Molly Hashimoto

We are thrilled to welcome nationally-known Seattle artist and teacher Molly Hashimoto to the Miller Library for her 2019 exhibit, opening this week. The library will be open late Thursday, November 7, from 5 to 7 pm, for an opening reception with the artist.
Molly's exhibit celebrates the special trees, plants and birds of the West, interpreted in paintings, block prints and etchings. Many of the bird prints appear in her 2019 book,

Birds of the West: An Artist's Guide

,

available for borrowing from our Pacific Northwest Connections Collection.
Illustrated History of the Herbals by Frank J. Anderson
reviewed by Brian Thompson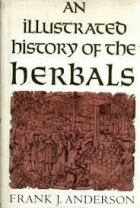 While researching the oldest books in the Miller Library's collection, I discovered a much more recent gem.
An Illustrated History of the Herbals
by Frank Anderson quickly became a valuable resource in my study of our rare books.
I say recent – but that is relative. Anderson's book dates from 1977, when he was honorary curator of rare books and manuscripts for the New York Botanical Garden. Honorary, because this was his retirement career after many years working for the U.S. Postal Service. According to his obituary in the New York Times (August 20, 1994), he "had his first official link with the garden's library in 1968 when he answered an ad seeking a 'mature' person to serve as book shelver."
Although it was his second career, Anderson proved a talented student of ancient writings on botany. He was also a superb writer. I have read several other such histories; he often clarifies topics that I struggled to understand as presented by other authors. This is an easy book to read from cover to cover and along the way you'll learn the history of plants and their uses from 70 to 1700 C.E.
He had great wit, too. In describing one book in the Miller collection: "The title page of the Theater of Plants, to use its English name, proclaims it as 'An Herball of Large Extent.' It is, for there are 1,755 folio sized pages…if a reader should happen to drop it on his foot he would be well advised to consult the passages on comfrey or other plants good for mending broken bones."
From the Children's Collection: My Hair is a Garden

reviewed by Rebecca Alexander

Can we tend to our sense of self the way we tend to a garden? Can a garden teach us self-acceptance and resilience? Cozbi Cabrera's picture book,
My Hair is a Garden
, demonstrates the way a little girl who is teased for her appearance takes heart in the kind guidance of an older neighbor who is a gardener. A garden contains beauty in many forms, and a tree is not better than a ground cover: "They're both beautiful […] even though they're so different." The neighbor teaches the girl practical lessons in caring for her hair, but more importantly and subtly, she sows in her the seeds of self-confidence.
The Miller Library's Plant Answer Line provides quick answers to gardening questions. You can reach the reference staff at 206-UWPLANT (206-897-5268),
hortlib@uw.edu, or from our website,
www.millerlibrary.org
© 2019 University of Washington Botanic Gardens