Volume 8, Issue 10 | October 2021

Layers: new paintings by Rosemary Washington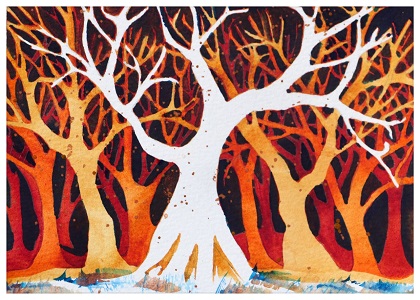 We are so happy to welcome Rosemary Washington back to our
exhibit space
this month. In her own words:
I picked up a paintbrush and started painting about 10 years ago when my daughter left home for college. I pulled out her old Prang watercolor set with its eight oval-shaped pans of paint and reclaimed my childhood joy in making art. Since then, my painting practice has become a journey of discovery and exploration.
Initially my goal was to recreate on paper the beautiful objects I found in the natural world around me: a flower, an autumn leaf, a pear, a great blue heron … I painted at my dining room table from photographs I had taken. I appreciated that my models did not move! My early paintings were exercises in looking closely, paying attention to detail, and struggling to transform what I saw into a realistic painted image.
Over the years, my painting practice deepened as I explored new challenges and directions. I wanted to paint more complex images and landscapes. What should I paint first? How could I achieve depth with a foreground, middle ground, and background? What should I emphasize and how would I do that? I wanted my paintings to be more expressive of my inner spirit.
It took many years of practice to begin to see in layers and move away from strictly realistic reproductions. The paintings in this
Layers
series play with pattern, form, repetition, negative space, and color values and combinations with the goal of creating a beautiful, harmonious composition. My process was to paint in layers, using a watercolor technique called glazing, or layering transparent colors. I started with just a few shapes around which I painted a light background color. This was my first layer. For the next iteration, I placed a few more shapes and a second, slightly darker layer of color in the negative spaces. Repeating these steps, the paintings grew layer by layer, bit by bit. I did not know ahead of time exactly how a finished painting would look, as each new layer was informed by decisions about color choices and the placement of shapes on top of the older layers.
Painting in layers is a meditative exercise, methodical yet playful, a journey toward a harmonious whole. It is an intuitive process, yet built on a foundation of skills acquired over a decade. Painting is a pleasurably solitary pursuit. But I appreciate this opportunity to bring my latest works before a local audience.
Seattle Japanese Garden archive at the Miller Library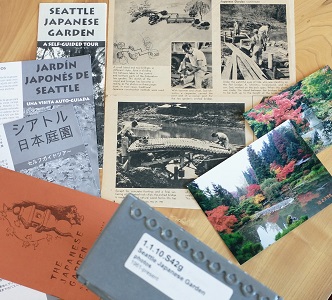 Thanks to a generous 2019 grant from Unit 86 of the
Arboretum Foundation
and months of volunteer and staff efforts, we have cataloged and organized our
archive
of documents on the Seattle Japanese Garden. Now we can offer researchers the chance to learn about the construction of the garden, view renovation plans and photos, and peruse decades of ephemera, including plant lists, event brochures and guide maps.
We are thrilled that these materials, many of them preserved for years, will now be easier for everyone to find and use. For more information, stop by the reference desk or reach out to us at
hortlib@uw.edu
.
Poetry in the Garden offers something for every reader

Autumn is the perfect time to reflect and recharge, getting ready for the cool and rainy days ahead. Readers of all ages looking for garden and nature poetry can now browse a curated selection of our best books. From the shelf browse
tool,
click a book cover image to learn more about that title and log in to place a hold.
If you need to establish or renew your borrower record, stop by the library or send us an email at
hortlib@uw.edu
.
Search for garden wisdom with us. You'll find researched
answers
,
gardening tips, book reviews, and recommended websites in our
Gardening Answers Knowledgebase.
© 2021 University of Washington Botanic Gardens