Volume 10, Issue 9 | September 2023

Fruiting Bodies by Heather Talbot September 5-29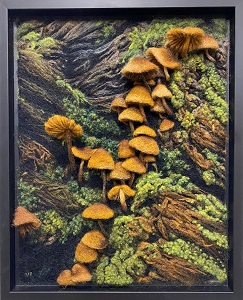 The Miller Library welcomes Heather Talbot for
Fruiting Bodies
, an exhibit of her pen and ink drawings, thread drawings, and needle felted works. From the artist's statement:
I am drawn to the concepts of impermanence, inter-connectedness and interdependence & use my art as a way of exploring these concepts. I'm interested in systems and how sometimes small and apparently insignificant elements of a system can be so essential to its healthy functioning.


I consider each piece of work I undertake to be an exploration into a more deep and full understanding of one aspect of the living web of life of which I am also a part. Fungi are so fascinating to me, not just because they are so varied and beautiful in form, but because they are the fruiting bodies of these vast, invisible webs that are so essential to the healthy functioning of a forest and so exemplify these notions of impermanence, inter-connectedness and interdependence so beautifully.
The exhibit is open during library
hours
September 5-29.
The Container Victory Garden
by Maggie Stuckey
Reviewed by Nick Williams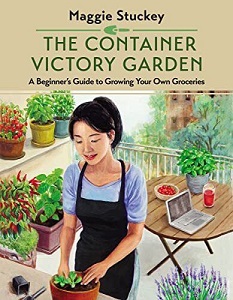 If you're new to container gardening, especially edible gardens, start with this book. Maggie Stuckey clearly had a mission in mind when writing this book: to invite folks to explore how they can start growing tasty food and to provide them with a resource that is useful, easy to follow, and clearly written.
The crux of
The Container Victory Garden
is an introduction to taking advantage of small spaces—balconies, patios, or a few steps—and reimaging those spaces as gardens where you can grow and harvest food you like. Stuckey does not assume prior knowledge, gently walking readers through the necessities for container gardens: considering sun and water supply; tools that are especially useful; and advantages and disadvantages to different kinds of containers. She even includes some creative inspiration for reusing furniture or thrift goods to create a container garden that has more personality or better function. She goes through the process of figuring out what kinds of plants to grow with several whole chapters digging more substantially into what's helpful to know about carrots or tomatoes or basil or pansies.
Janice Minjin Yang and Lee Johnston have also done an excellent job using art to increase the book's impact. There are three kinds of art used in the book. The first kind is photographs that show readers what the plants look like. The second kind is black-and-white line sketches that illustrate concepts and ideas, making it easier to understand different trellis options or what a root ball looks like. The third kind is paintings that depict scenes of people enjoying their container gardens. I particularly enjoy the last because the paintings help show a wide array of styles when it comes to setting up container gardens and they make it easier for a reader to envision what they might want their garden to be like.
Woven throughout this book are threads about the history of victory gardens. Common during times of war or pandemic, victory gardens have come to occupy a strong space in our cultural imagination for the idea that we can do something to take care of us and those around us in times of profound stress by growing our own tasty, healthy food. As a historian of food and cultural ideas about what we eat, I really enjoyed these threads in Stuckey's book. She includes historical information, documents and photographs, and recollections from about 20 individuals about their experiences with victory gardens. I feel this dimension of the book helps support the mission of inviting new people into the world of gardening by showing them how they can be part of this bigger, fascinating picture.
While this book is substantial and very helpful, it is not intended to be comprehensive. For readers wanting a more comprehensive book on container gardening, I couldn't do better than to recommend
The Bountiful Container,
by Rose Marie Nichols McGee and Maggie Stuckey. But for an introductory book on the subject, Stuckey's
The Container Victory Garden
is definitely top-notch.
Am I overwatering my Salvia?
Researched by Rebecca Alexander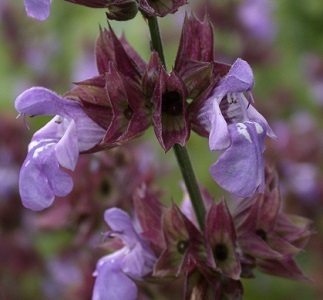 Question:
I recently planted several purple Salvia plants that have completely faded from beautiful, bright purple to beige. It has been really hot and dry and I've been watering them in clay soil once to twice a day. Is it possible that I'm overwatering them? Or do they need even more water since they were just planted?


Answer: I'm not sure what type of Salvia you are growing, but it is possible you are overwatering them. The heavy clay soil combined with watering 1-2 times daily sounds like too much for a plant that is drought-tolerant once established. To learn more about growing ornamental salvias, see this University of California, Davis
Arboretum Review
, #44, Fall 2003 article,
Salvias for Every Garden
by Ellen Zagory.
I would suggest watering less often, but watering more deeply, and possibly mulching around the plants. Some xeriscaping resources suggest using gravel, and it is mentioned in
Landscape Water Conservation: Principles of Xeriscape
from New Mexico State University Extension, with the caution that although "some plants native to very well drained soils grow better in gravel mulches […] rock mulch becomes very hot in our climate and can injure or limit growth of some plants. Ultimately, the mulch should be shaded by landscape plants that will provide environmental cooling. Using gravel mulch alone as a landscape element may result in increased home cooling bills and require greater weed control efforts."
This article
by Seattle-area garden writer Ann Lovejoy on drought-tolerant gardening may also be of interest.
The Miller Library's Plant Answer Line provides quick answers to gardening questions.
You can reach the reference staff at 206-UWPLANT (206-897-5268),
hortlib@uw.edu, or from our website,
www.millerlibrary.org
.
© 2023 University of Washington Botanic Gardens