VOLUME 7, ISSUE 2 | February 2020

Community-scale composting systems: a comprehensive practical guide for closing the food system loop and solving our waste crisis by James McSweeney
Reviewed by Tracy Mehlin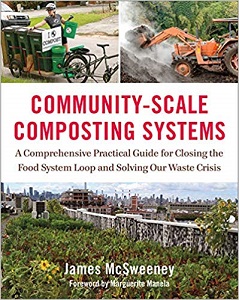 Author James McSweeney passionately believes that food scraps are resources -- not waste -- and has spent a career consulting for farmers, businesses and community based non-profits on how to turn organic material into high-quality compost. His expertise and knowledge have been collected into a textbook that details not only the various techniques for making compost at scale, but also all the economic, logistic and business considerations required for success. The book is very well-organized with charts, worksheets for planning, diagrams and excellent color photos. McSweeney's writing is scientific but also engaging, with just enough anecdotal examples and case studies to keep readers interested in what could be a very dry topic. Footnotes document extensive references, while sidebars give focused information such as "common regulations for food scrap composters."
In the introduction McSweeney distills the essence of successful composting to the four Cs: cover, contain, complete and carbon. The following chapters explore several business and system models (such as drop-off, school, commercial, and community garden) with an economic analysis for each system. The biology and chemistry behind the compost process is detailed in another chapter. Proven composting methods, such as windrows and aerated static piles, are explained in the following chapters. Finally the text concludes with chapters on site management and marketing the final product.


This book would be useful for anyone on the composting continuum from serious home scale or multi-family to neighborhood, school or workplace. The principles apply to farms, community gardens, and demonstration sites as well as large-scale municipal and industrial enterprises.
Save the date for our annual Garden Lovers' Book Sale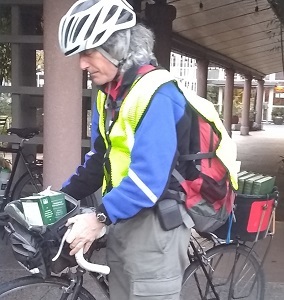 We are very pleased to announce our 2020 Garden Lovers' Book Sale. By selling extra copies of great gardening books we already have, the library is able to fund new book purchases and programs.
The sale will open with a party on Friday, April 3, from 5 to 8 pm. Ticketholders will have the chance to meet members of our local chapter of the American Society of Botanical Artists and other local luminaries, have a glass of wine, and enjoy delicious food while shopping for horticultural books and bidding in the silent auction. Tickets are limited and cost $30. To purchase tickets call 206-543-0415 or visit the Miller Library.
A limited number of free tickets are available for book sale volunteers who are willing to help set up and take down the sale.
From April 3 through May 2, the
Pacific Northwest Botanical Artists
will have their work on display and for sale, with twenty-five percent of the proceeds benefiting the library.
The free, public sale is scheduled for Saturday, April 4, from 9 am to 3 pm. Browse thousands of gently used books for sale on gardening, plants, ecology and related topics. It only happens once a year- don't miss it!
Of Branches and Baskets: the Art of the Willow
Group show opens this month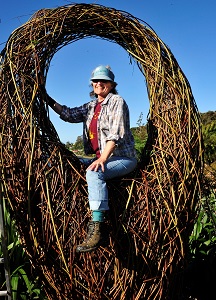 Several local artists and artisans are bringing their
willow-related work
together at the Miller Library this month. Judy Zugish, pictured here, is a basketry artist and teacher whose work is experimental and sculpted from nature. She has explored with plants in her fiber arts garden for over 30 years with keen curiosity. A co-founder of Fishsticks Basketry School in 1991, she shares her skills with Northwest weavers and hosts national and international teachers visiting our region.
Traveling widely since 1998, she has led journeys in basketmaking to Japan, England, Denmark, France and Germany. Recent residency explorations include basketry fibers in Australia and New Zealand.


She lives in Marysville, Washington, where she can be found deep in the foliage or working in her studio. Learn more about Judy's work at
www.twigtwisters.com
.
The artists are hosting a reception at the library on Thursday, February 6, from 5 to 7 pm.
The Miller Library's Plant Answer Line provides quick answers to gardening questions.
You can reach the reference staff at 206-UWPLANT (206-897-5268),
hortlib@uw.edu, or from our website,
www.millerlibrary.org
.
© 2020 University of Washington Botanic Gardens