VOLUME 7, ISSUE 7 | July 2020

Markel Uriu virtual exhibit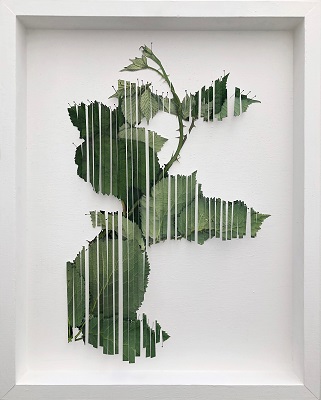 We welcome Markel Uriu's work to our virtual exhibit space this month. In her own words:
My work deals with impermanence, maintenance, and decay. I use organic materials to create pieces that are always in flux, highlighting and measuring time. Their creation is invested with care, reflected in the presence of the hand, the repetitive processes, and mundane rituals needed for them to emerge. Repetitive arrangements create a visual rhythm, evoking the cyclical nature of living: the heartbeats, breaths, and blood flow essential to life, and reflect my interest in feminine labor--quiet, vital and overlooked. Accumulations create space to reflect on acts of emotional endurance and the fragility of what is built.
I am interested in the fluidity and complexities that exist within our histories. I explore this using my personal experience as a multiracial Yonsei, someone in the 4th generation away from Japan. As a mixed American, I exist in a space between cultures. Engaging with the simultaneous rift and connection felt to my heritage, I must often rely on my own interpretations of cultural traditions, even as the traditions shift with generational change. This process is shown with my pieces themselves, which continuously build and, despite the time and labor devoted to them, decay to the point that only an echo remains.


These interests in time, cycles, and cultural interaction have spawned a fascination with invasive species. Through these lenses and processes, I have begun exploring the nature of invasive species, their environmental impacts, and their links to humanity, globalization, and colonialism. With the increase of movement of humanity, more and more organisms have moved with them. As a result, invasive species have contributed to drastic shifts in the landscape itself, creating physical manifestations of history and narratives of the people that brought them.
Big Lonely Doug
by Harley Rustad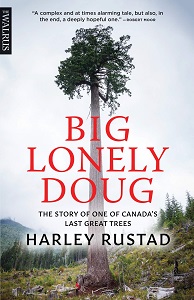 Harley Rustad's Big Lonely Doug is the story of one superlative tree spared from the saw by a forester who recognized its value. Later this tree was named Big Lonely Doug by members of the Ancient Forest Alliance, who hoped to use the 1,000-year-old Douglas fir to inspire a new initiative to preserve Vancouver Island's remaining old growth forests.

Rustad covers the history of British colonial exploration, including the Scottish botanist named David Douglas. He also compares the development of timber extraction as the foundation of British Columbia's economy and with the more recent growth of environmental activism trying to save isolated patches of virgin forest.
The author intends to give a complete picture of a complex situation without sentimentality. The reader understands from the start that Rustad sympathizes with the activists and treasures the ancient forests and giant trees. However, his treatment of the loggers is respectful. He represents the loggers' sensibility as intimately knowledgeable about forests, and he accepts that trees are a resource to be harvested. Cutting down the forests provides jobs and supports communities. The corporate owners don't get off so easily when Rustad reveals how local sawmills closed down while raw logs got exported and processed in Asia.
Reading about the virgin forests with giant, ancient Western red cedars, Douglas firs and Sitka spruce (Thuja plicata, Pseudotsuga menziesii and Picea sitchensis) made me nostalgic for the times in college when I hiked among equally giant and awe-inspiring redwoods on the Northern California coast. I've never understood why all the rare fragments of remaining old growth were not cherished by everyone and preserved in national parks. We know how to log sustainably without leaving a clear-cut wasteland behind, so why are clearcuts permitted?
Celebrity trees like Big Lonely Doug, saved by a logger, capture the public's imagination. Activists learned over the decades how to harness that celebrity to generate support for increasingly protective logging regulations. And now ecotourism's beneficial economic impact acts as a counterargument against the reasoning that logging equals jobs so logging must continue unchecked. Harley Rustad documents the story of one remarkable specimen while leaving readers feeling hopeful that ancient forests may finally gain some official appreciation and protection.
Miller Library slide collection capstone project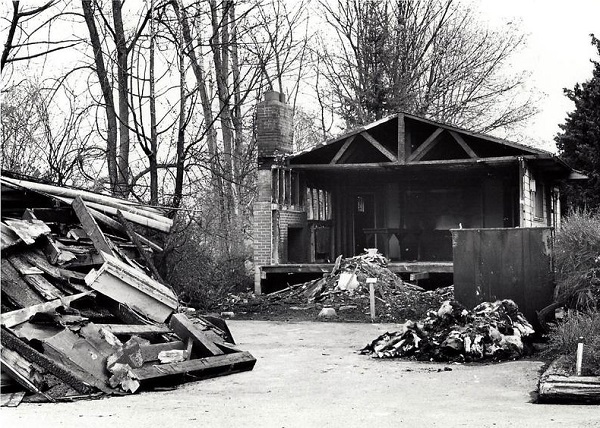 The Miller Library's photographic slides have never been easy to search or access, but that is beginning to change thanks to the hard work of four University of Washington Information School students. As their capstone project this year, before the pandemic reached Seattle, the students sorted slides, organized them into categories, and explored ways of cataloging them. They have prepared a
virtual exhibit
to provide an overview of the collection. In the future, we hope to expand this with a greater range of historical images and oral histories.
This sample image shows the clubhouse at the Arboretum after a destructive fire in 1968. The clubhouse was never rebuilt, but its function (and others) are now served by the Graham Visitors Center, which opened in 1985.
subscribe to LEAFLET

The Miller Library publishes another newsletter each month:
Leaflet
. The July issue includes a
reference question and answer
about wasps using mason bee tubes for food storage as well as an update from the King County Master Gardener program.
© 2020 University of Washington Botanic Gardens