VOLUME 8, ISSUE 6 | June 2021

New Woman Ecologies by Alicia Carroll

Reviewed by Priscilla Grundy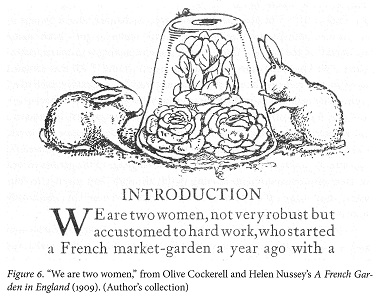 The New Woman movement grew out of the Arts and Crafts movement in Britain in the late 19th and early 20th centuries. Its aim was to give women new opportunities, especially to do paid work, outside their role of nurturing mother at the hearth.
New Woman Ecologies
shows how the New Woman and the growing green efforts meshed with each other.
Each chapter presents a different episode in this meshing, using mainly texts written at the time. Carroll moves from two London women starting their own market garden in rural Kent through to women's participation in the Land Army, a government-run farm work project during World War I.


The final chapter focuses on the revival of herb growing after World War I. Maud Grieve's
Modern Herbal
of 1931 is one text among those which "transformed public perception of local herbs from 'almost inert' weeds to potent partners in both domestic and commercial gardens" (p.152). Grieve's plant entries include medicinal as well as the usual plant and growing information. She also notes connections between plants and other living things, notably people. Her long entry on English lavender asserts its superiority to French lavender not only due to its medicinal qualities but also because it is local and therefore fresher. She also notes its positive effect on the grower. In England the herbal revival was scotched in 1941 by the Pharmacy and Medicines Act, which grew out of fear that giving medicinal information on plants to the masses was dangerous, particularly to pharmacists. The act described the use of herbs as medicine as fairy tale thinking. Its largely successful goal was to put herb growers, who were mainly women, out of business. The act was repealed in 1968.
All the efforts described in New Woman Ecologies were frustrated in one way or another, but the reader gains helpful background information on one corner of the history of the feminist and ecological movements.
Garden of Pride display honors LGBTQ plant lovers

The Miller Library staff celebrates Pride Month with a collection of our best resources by and about LGBTQ gardeners and plantspeople. Throughout the month of June, watch for
Facebook
posts highlighting our favorite titles. Borrowers can also place holds on specific items from the catalog
list
, and view the covers using our online shelf browse
tool
.
Choosing these titles was challenging. Many queer authors, for fear of discrimination, ostracism, physical harm, or arrest, kept their sexual and gender identities private, especially for books of the 20th century or earlier. While one can speculate about the authors or subjects of the earlier books, the Garden of Pride only includes those titles that have a confirmed LGBTQ identity.
Despite the many challenges, these books are joyful, proving the life-affirming value of gardens and gardening to all people. Please get to know these interesting and important heroes of horticultural history.
Grasses, Sedges, Rushes: an Identification Guide
by Lauren Brown and Ted Elliman

Reviewed by Brian Thompson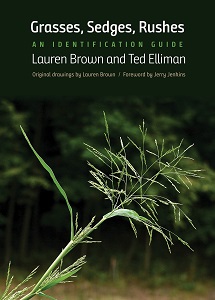 Lauren Brown wrote the classic
Grasses: An Identification Guide
for the American northeast in 1979. Illustrated with her exquisite and effective line drawings, this book filled a void by providing a field guide to this abundant group of plants typically overlooked in general wild flower guides.
This last year, the second edition, titled
Grasses, Sedges, Rushes: An Identification Guide
was released with a secondary author, Ted Elliman. What's new? The title now more accurately reflects the inclusion (also in the first edition) of other grass-like plants. Each entry now has a photograph, but wisely the line drawings have been preserved and together they enhance the chances for positive identification.
Why am I recommending a book that does not cover the Pacific Northwest? Primarily because this is an excellent introduction to grasses anywhere, and well worth reading for an understanding of the North American ecology and human history with these plants. The western edge of this new edition's coverage also includes the lands of the former tall grass prairie and some of these species have ranges extending into our region. This book also includes established invasive grasses that are found throughout the country.
"To identify grasses with technical manuals or internet sources requires a fair amount of botanical knowledge, considerable patience, and sometimes a dose of luck. Even Charles Darwin was elated when he first identified a grass." Brown and Elliman understand the challenges for the beginning grasses enthusiast. Once you have mastered the basics using this gentle guide, I recommend moving on to
Field guide to the grasses of Oregon and Washington
for a more detailed study of the grasses found in our region.
If the Miller Library offered e-books, would you borrow them?
Please
reply
to this message with your thoughts.
© 2021 University of Washington Botanic Gardens