VOLUME 10, ISSUE 3 | March 2023

Garden Lovers' Book Sale March 31 & April 1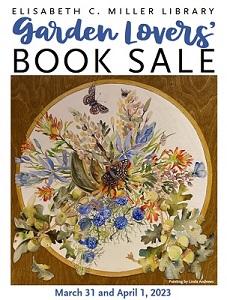 Join us Friday, March 31 and Saturday, April 1 for our
annual book sale.
Enjoy the company of fellow plant lovers, browsing thousands of gently used books for sale on gardening, plants, ecology and related topics.
An Opening Night event will take place Fri, March 31 from 5 to 8 pm, which includes the book sale, a silent auction, a new art exhibit by
Pacific Northwest Botanical Artists
, food and drink.
Registration
and more information can be found on our website.
No registration is required for the Saturday book sale, which runs from 9 am to 3 pm.


Interested in volunteering? Please contact Nick Williams at
nickjpw@uw.edu
to sign up. Shifts include setting up Friday morning, the opening night party, or takedown on Saturday afternoon.
Playing with Color:
Watercolors by Rosemary Washington
Rosemary Washington returns to the Miller Library with new watercolor work featuring vegetables, fruits, and flowers. Since 2012, Rosemary has had four exhibits of her work in watercolors at the library, including the current one. Each showed her growth into new styles and directions. One constant, however, is finding inspiration in nature and the commonplace.
Rosemary considers herself a true amateur, one who pursues art for the love of it. There is no goal in mind, so she is free to evolve, experiment, and follow her urges. By focusing on regular, frequent practice (ideally picking up a paintbrush every day) and making small paintings, she is able to create a quantity of works that allow new directions to emerge in an unstudied, natural way. In the future, Rosemary hopes to further experiment with watercolor, gouache, and
collage
. She expects joyful surprises.
The exhibit is open March 1-28 during Library
hours
. All sales by cash or check only. Buyers can pick up their art on or after March 29. A portion of the proceeds will be donated to the UW Miller Library Fund.
2023 Student Plant Research Virtual Exhibit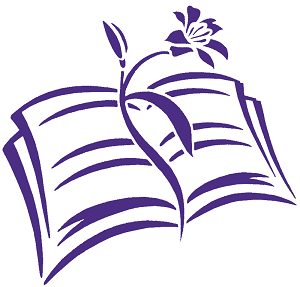 The Miller Library will host an annual exhibit of student presentations on our website in May and June, highlighting the projects of undergraduate and graduate students across the University who are working with plants. This is an opportunity to share your ideas and enthusiasm in a condensed, eye-catching format for a general but plant devoted audience.


The process is simple:
Consider your topic. You may want to present a distillation of a capstone project or a major research project you've undertaken. The research must relate directly to plants, but there are many approaches. You can see previous years' submissions at our Student Research Presentations page.
By Thursday, April 6: Email a title and brief abstract (no more than 100 words) to hortlib@uw.edu.
Design a poster or create a video presentation to share your research. Remember to make the information you present easy to read: legibility of text and a clean layout of information and graphics go a long way. Be sure to include your name, date (month and year), and your department, school, or college on your poster or video.
By Monday, May 1: Submit your finished poster or video to hortlib@uw.edu. We look forward to learning about your important work and helping share it with others!
The exhibit will be featured on the Miller Library's website from May 4th – June 15th. Any questions? Please contact Nick Williams,
nickjpw@uw.edu
.
The Miller Library's Plant Answer Line provides quick answers to gardening questions.
You can reach the reference staff at 206-UWPLANT (206-897-5268),
hortlib@uw.edu, or from our website,
www.millerlibrary.org
.
© 2023 University of Washington Botanic Gardens