VOLUME 9, ISSUE 5 | May 2022

Trends in borrowing from the Pacific Northwest Connections Collection

Each spring we look at what readers are borrowing, gaining insight into how our collections are used. For this list, we looked only at the Pacific Northwest Connections Collection, where you can find books about the Pacific Northwest and other places around the Pacific Rim, and only at the past 12 months. Books on regional gardens, trees, landscape design, flower farming, and how ecosystems respond to disruptions have all been popular. Here are Miller Library borrowers' favorites over the past year:
We hope you'll take a tip from fellow readers and check these out.
Me + Tree new in our Youth Collection

Reviewed by Rebecca Alexander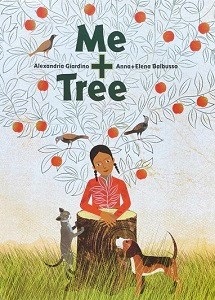 Me + Tree (written by Alexandria Giardino, illustrated by Anna and Elena Balbusso) opens with an image of tight concentric circles. Turn the page to an urban scene with a tree stump, and it becomes clear those circles were tree rings, and immediately the sense of time and history (both arboreal and human) enters the story. The lives of a diverse range of people are intertwined with that of the tree, and their relationship with the tree evolves. Where once it was loved for its fruit and as a place to sit, court, and contemplate, its wood becomes useful for fuel and building, and all that remains is a stump.


The girl who is the "me" of the title is drawn to the stump in the bleak playground, and intuitively grasps the changes it has endured because it reflects what she and her family have experienced. As she draws her own stories on the stump, she depicts joyful times in a beautiful garden, but also the upheaval of fleeing and moving to an unfamiliar place where she feels alone. The sense of connection between girl and tree is mutual, and just as the tree sends up a sprout of new growth, the girl too begins to sense new possibilities of friendship and belonging.
Your favorites: the top ten most-borrowed items since 2012
What do Miller Library borrowers read year after year? To find out, we generated a list of the most popular items since our borrowing system came online nearly a decade ago. As in past years, many of your favorite books are locally produced and about topics of special interest here in the Pacific Northwest including books on Northwest native plants, plant selection, tree identification, and local wildlife. Garden design and botany are perennial favorites, too. Here are Miller Library borrowers' top picks:
We hope you'll take a tip from your fellow borrowers and check these classic titles out.
The Miller Library's Plant Answer Line provides quick answers to gardening questions.
You can reach the reference staff at 206-UWPLANT (206-897-5268),
hortlib@uw.edu, or from our website,
www.millerlibrary.org
.
© 2022 University of Washington Botanic Gardens