VOLUME 10, ISSUE 5 | May 2023

Field Study by Helen Humphreys

Reviewed by Nick Williams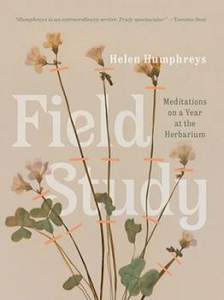 Imagine a plant carefully and dutifully dried, pressed, and preserved between sheets of paper. Now imagine a room full of cabinets and drawers in which are stacked plant upon plant upon plant in this fashion, over 140,000 dried plant specimens in all. It would be a feat of admirable persistence and curiosity to explore every single specimen. Yet, that is exactly the task Helen Humphreys set out to do in writing
Field Study: Meditations on a Year at the Herbarium
.
Over the course of a year, Humphreys does just this. She lingers, wondering aloud about the individuals who went out into the world, found these plants, and committed those plants to lives between sheets of paper. Images and stories throughout Field Study show the reader the variations between plant collectors: how they displayed the plants, the information they included alongside the plant, what kinds of plants interested each collector, and sometimes snippets of biography of the collectors themselves. Humphreys interlaces her own musings on history, culture, and ecological place as such thoughts are inspired by the specimens.

These musings about dead plants collectively create a book about life and death and how we come to understand the losses in our lives. Partway through her project, after spending months thinking about the death of individual plants, Humphreys was forced to reckon with loss in her own personal life when her beloved dog became incurably ill and passed. Much of this book, in turn, became a love-filled meditation on the fleeting joys of her dog and the memories they shared walking everyday in the nearby woods surrounded by beautiful plants. That loss and grief shaped her meditations and sharpened her thinking on what we leave behind us when we pass.


This book is written beautifully and fluidly and Humphreys includes an impactful array of photographs and illustrations throughout, making it a delight to read. What at first glance appears to be a light and airy romp through a fascinating world of dried plants, however, ultimately becomes a rather serious examination of the fragility of humanity, personal loss, and what we collectively leave behind. Humphreys initially believed plants were the fragile ones. "And yet," she says toward the end of her stay, "the flowers still take up their space, still resemble themselves, and I can feel their enduring presence, whereas I am starting to feel like I am the fleeting, temporary thing, that my human life is so brief in comparison to the genetic continuance of this gentian, or this violet." This is not said without hope, though. As Humphreys understood following her dog's passing, there is something beautiful to behold in such fragility and impermanence as new insights grow from between the cracks of loss.
Essential
by Christie Tirado
In the Miller Library through May 27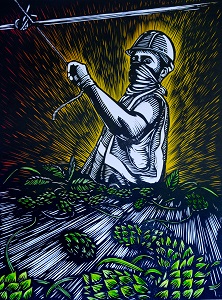 The Miller Library welcomes Christie Tirado for a solo show May 1-27. Tirado's artwork revolves around the many diasporas that compose her Mexican American identity. For the past five years, she has centered her artistic practice on creating pieces that articulate the various dimensions that characterize the work of migrant farm working communities in the central region of Washington State. This focus has resulted in an integrated practice that includes an ethnographic dimension in the development of community-based projects and professional service, informing her work as a practicing artist and educator. Inspired by the Mexican tradition of relief block printing, which has historically been used as a vehicle for artistic, social, and political expression, her prints aim to render visible the presence, labor and relevance of populations that have been systematically marginalized from basic social benefits, including representation.
Tirado earned her BA at the University of Washington and her Master in Teaching at Heritage University, and has exhibited her prints widely, with exhibitions at Davidson Galleries in Seattle, SOIL gallery in Seattle, The Sun Valley Museum of Art in Ketchum, Idaho, and La Productora Gráfica del Bosque in Oaxaca, Mexico. She was the recipient of the 2020 Larry Sommers Fellowship through Seattle Print Arts, and her work has been featured in various newsrooms and magazines across the nation, including High Country News, ProPublica and Crosscut. She currently teaches art to K-8 students in Yakima, Washington, and will be attending the University of Wisconsin-Madison in the fall as an MFA candidate in their printmaking program.


To learn more, please visit her website at
christietiradoarte.com
or follow her on Instagram:@Christietirado_arte or Facebook: Christie Tirado Arte. She will also host a reception at the Miller Library on Saturday, May 6, from noon to 2 pm.
What Miller Library borrowers read now

Each spring we look at what readers are borrowing to learn how the collections are used. For this list, we looked at the past 12 months and excluded items from the Youth and Parent/Teacher Collections. Books on botanical illustration, trees, ferns, vegetable gardening, ethnobotany, and garden design have all been popular. Here are Miller Library borrowers' favorites over the past year:
We hope you'll take a tip from fellow readers and check these out.
Student plant research

Our 2023
Student Plant Research Virtual Exhibit
will appear on the library's website May 4 - June 15. Since 2008, this annual exhibit has shown plant-focused work by UW graduate and undergraduate students. Topics this year include: insights into alpine plant species, the ecological needs of select endangered plant species, increasing ecological literacy through playful edible landscapes, adaptations to the challenges of climate change for horticulture, and more. A reception will be held at the library on Thursday, May 11th from 2-4pm.
© 2023 University of Washington Botanic Gardens