VOLUME 6, ISSUE 11 | November 2019

From the Plant Answer Line: What do botanists call the tree that produces these flavorful turquoise seeds?
researched by Rebecca Alexander
Flora and Fauna of the West
Paintings & Prints by Molly Hashimoto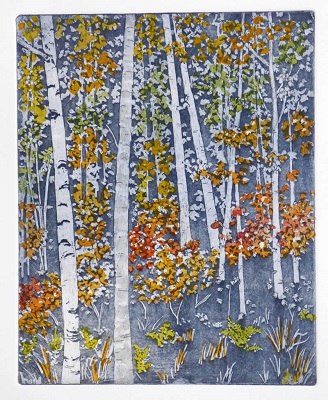 We are thrilled to welcome nationally-known Seattle artist and teacher Molly Hashimoto for her 2019 exhibit at the Miller Library, opening this week. The library will be open late Thursday, November 7, from 5 to 7 pm, for an opening reception with the artist.


Molly's exhibit celebrates the special trees, plants and birds of the West, interpreted in paintings, block prints and etchings. Many of the bird prints appear in her 2019 book,

Birds of the West: An Artist's Guide

,

available for borrowing from our Pacific Northwest Connections Collection.
Journal spotlight: Urban Forestry & Urban Greening

reviewed by Brian Thompson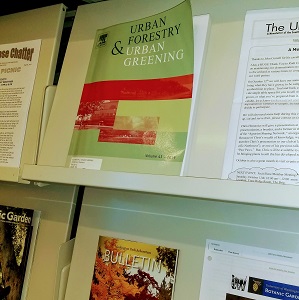 One of the more popular periodical publications in the Miller Library is
Urban Forestry & Urban Greening
, a peer-reviewed, internationally-focused journal published 10 times per year. The publisher (Elsevier) describes the focus as "urban and peri-urban woody and non-woody vegetation and its use, planning, design, establishment and management."
The editors accept submissions on a wide range of topics under the urban umbrella, including everything from the expected arboriculture and horticulture to urban planning and design, public health, and even environmental psychology. The intended audience includes academics but also policymakers and landscape professionals.
The current and upcoming issues demonstrate this breadth of topics. One report discusses stormwater infrastructure designs, showing that the preferences of professionals and laypeople are often quite different. Another article outlines the challenges of developing "an effective forest therapy program to manage academic stress in conservative societies," using Malaysia as the model. Closer to home, researchers from the University of British Columbia study "urban green equity on the ground" using Portland (Oregon), Phoenix, and New York City as their models to compare.


Many of the articles are available to download from the journal's website (linked from the Miller Library's catalog entry); however, the library maintains a print collection dating from the release of volume 1 in 2002. Visit the library and browse through this impressive journal.
gardening answers knowledgebase
Search for garden wisdom with us. You'll find researched
answers
,
gardening tips, book reviews,and recommended websites.

© 2019 University of Washington Botanic Gardens