VOLUME 9, ISSUE 11 | November 2022

Saunders' field guide to gladioli of South Africa

Reviewed by Brian Thompson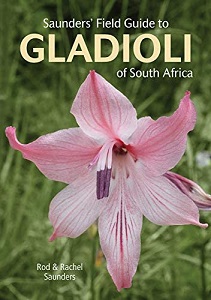 The stiff spikes of gladioli are a mainstay for florists and favored by home gardeners for the hundreds of named cultivars in almost every color. Lesser known is the large genus of
Gladiolus
in the Iridaceae family with about 300 species, thriving in a wide range of environmental settings.
While there are a handful of Eurasian species near the Mediterranean, and others that can be found in tropical Africa, the concentration of this genus is in South Africa. An extensive (almost 400 pages) new field guide,
Saunders' Field Guide to Gladioli of South Africa
is remarkable in being focused on this single genus.
While a few of these species are of horticultural interest and will grow with care in our climate, I think the main attraction of this book is the breadth of variety in a flower that is very commonplace in horticulture, but otherwise not well known. For example, I am struck by how many of the species are scented, a trait unknown in cultivated glads.
The authors,
Rod
and
Rachel Saunders
, were killed near the end of their efforts to photograph all the native species of their country in flower, leaving Fiona Ross to complete the book with the help of many others. While a must for a botanically inclined visitor to South Africa, this field guide is fascinating just for its level of detail and the diverse beauty of its subjects.
An example is G. cardinalis that grows in the province of Western Cape. "The plants flower in midsummer, the driest time of the year. The corms are wedged into cracks in the rocks where they are protected. Corms and roots must be constantly wet, and have been found in very fast-flowing river…often found flowering together with Disa uniflora, an orchid of a similar colour; the two species share the same pollinator."
Eight different photos accompany this description, showing the bright red flowers cascading off of a wet cliff wall. Surprisingly, regional nursery
Far Reaches Farm
carries this species, having found it to be hardy and amenable to garden culture. I'm eager to give it a try.
Molly Hashimoto paintings and prints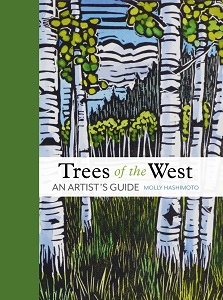 The Miller Library is delighted to host an exhibit of paintings and prints by Molly Hashimoto once more. This year she will share original watercolors and block prints from her new book,
Trees of the West: an Artist's Guide
.
The exhibit will be open during Library open
hours
November 3 through December 5, and Molly's work will remain on display during our Arts and Crafts exhibit and sale, which runs December 7-29.
Readers are invited to meet the artist this Thursday, November 3, from 5 to 7 p.m at the Miller Library.

Ask the Plant Answer Line: Why is Linaria called toadflax?
Researched by Rebecca Alexander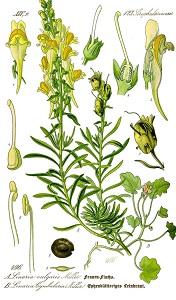 There are several different explanations, not all equally credible.
A Dictionary of English Plant-Names
by James Britten and Robert Holland (Kartuz Reprint Ltd., 1965) cites the theory of 17th century naturalist William Coles that the name came about "because toads will sometimes shelter themselves amongst the branches of it." The authors themselves seem doubtful, since they remark on this theory with an exclamation point!
Geoffrey Grigson, in his book
A Dictionary of English Plant Names
(Allen Lane, 1974) cites naturalist William Turner's 1548 The Names of Herbes, which says toadflax a translation from the German
Krottenflachs
, "i.e., a wild, useless flax, a flax for toads." This too seems a bit of a stretch. What do toads and uselessness have in common?
Elsevier's Dictionary of Plant Lore
, by Donald C. Watts (2007), cites a number of theories. John Gerard, writing in the 16
th
century, described
Linaria
as "a kind of Antyrrhinum [
Antirrhinum
, the snapdragon]," [having small, slender, blackish stalks] "from which do grow many long narrow leaves like flax. The flowers be yellow with a spurre hanging at the same like unto a Larkesspurre, having a mouth like unto a frog's mouth, even such as it is to be seene in the common Snapdragon." Watts doesn't fully embrace this because it would then rightly be called toad's mouth. Another thought is that "toad" sounds like the German word
tot
, for dead. A dead flax could be one that is unusable as a source of fiber, but
Linaria
also has a reputation as a noxious weed in flax fields.
The Miller Library's Plant Answer Line provides quick answers to gardening questions.
You can reach the reference staff at 206-UWPLANT (206-897-5268),
hortlib@uw.edu, or from our website,
www.millerlibrary.org
.
© 2022 University of Washington Botanic Gardens