VOLUME 9, ISSUE 9 | September 2022

Ask the Plant Answer Line:
What's that red floret on Queen Anne's Lace?

Researched by Rebecca Alexander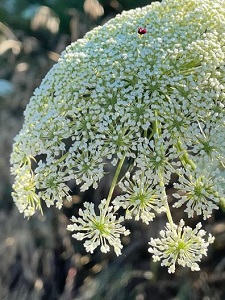 Q: I've noticed that some Queen Anne's lace flowers have a dark red spot in the center, like a flower but somewhat elevated and larger than the rest of the white ones. Does it have a purpose?
A: Daucus carota, the wild form of the edible carrot, is a biennial plant that forms a rosette of leaves in its first year, and an inflorescence in its second year–an umbel made up of mostly white flowers, often with the reddish purple floret (the term for a flower within an inflorescence) at the center, as you noticed.


Even the plant's common name gave rise to tales about that red spot. In the book
Wildflower Folklore
by Laura C. Martin, the author mentions a story that "the queen was making lace when she pricked her finger," and the deep red floret resembles a drop of blood.
Questions about the purpose
of that floret have a long history. Charles Darwin stated that it had "no functional importance," and more recent and conflicting studies suggest that it either attracts and guides pollinators, or it repels the predations of insects. An article in
Plant Species Biology
(April 20, 2012), "The function of the wild carrot's dark central floret: attract, guide or deter?," does not dismiss the attraction or deterrence theories, finding value in both. They note that flowers that have a dark central floret tend to have fewer galls, so the floret might repel gall midges by mimicking the appearance of a gall.
Anecdotally, I have noticed that
common red soldier beetles
seem to like visiting—and even mating—on the umbels of Queen Anne's lace. Whether that deep red floret attracts them because its color is similar to their own, I can't say.
Queen Anne's lace photo courtesy of Jennifer Rose, copyright 2022.
Renée Simard paintings in the Miller Library
September 6-29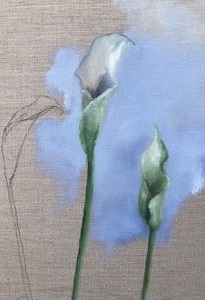 Please welcome Renée Simard to the Miller Library this month for her new exhibit, Cose Naturali – Natural Things. In the artist's own words:
Natural things. On walks, the beauty I see in tree trunks, weeds, wilting flowers can often stop me in my tracks. Images strike me and I can't wait to put them on canvas.


White calla lilies are exasperating and aren't white! Their leaves are green, yellowish at times, blueish green, often pure color with all its brightness. Depending on weather, time of day, and surroundings, the lilies' single petal (a spathe) shifts from grey to yellow to blue to green, even a touch of purple. Was that a warm color temperature or is it icy cold? Wait, chroma just changed, I see cool grays and now I see raw sienna. My palette overflows with paint as I try to recreate these ephemeral color notes.
These flowers make challenging models: simple, elegant, shapely. Fascinating!

The oil paintings and silverpoint drawings I am honored to show here illustrate moments when I filter out stimuli. This series, titled
Cose Naturali – Natural Things,
represents part of my artist's relationship with nature.


This exhibition is in memory of my mother, Colette Laroche, who was a master gardener and lover of nature. She courageously fought colon cancer and passed away on August 13, 2022 at 87 years old.

The exhibit is open during library hours. Readers are invited to meet the artist in the Library on Monday, September 26 from 5:00 to 6:30 pm.
Six Hundred Years of Botanical Illustration at Oak Spring
Brian Thompson reports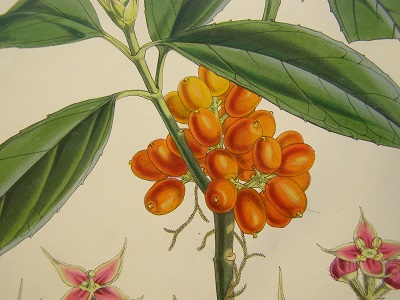 I feel very fortunate that in July I was able to attend the Rare Book School class "Six Hundred Years of Botanical Illustration" presented at the Oak Spring Garden and Library in Upperville, Virginia. It was excellent in every way.
Six hundred years is an insufficient title. The Oak Spring collection dates back to a 14th century manuscript, while the 21st century was represented with a lecture and demonstration by Lara Call Gastinger, the lead illustrator of
The Flora of Virginia
, winner of the 2014 Council on Botanical and Horticultural Libraries
Annual Literature
Award. Lara had us try our own hand at illustrating, beginning with a petal, than a leaf, and finally the whole plant. Through this exercise, each of us gained a greater appreciation for the many components found in every plant and in the skills of the illustrators we studied.
The instructors were all very knowledgeable and brought different, complementary perspectives, as did Tony Willis, head librarian at Oak Spring, and the Rare Book School administrator who was with us all week. Flavorful meals from the adjacent
Biocultural Conservation Farm
were also a treat. Best was seeing all these wonderful works up close while learning the techniques and practical considerations of publication and the biographies of those involved.
If you have any questions about the class, please don't hesitate to ask me.
The Miller Library's Plant Answer Line provides quick answers to gardening questions.
You can reach the reference staff at 206-UWPLANT (206-897-5268),
hortlib@uw.edu, or from our website,
www.millerlibrary.org
.
© 2022 University of Washington Botanic Gardens