The Multiple Sclerosis Center at Northwest Hospital
The Multiple Sclerosis Center (located on the Northwest Hospital campus)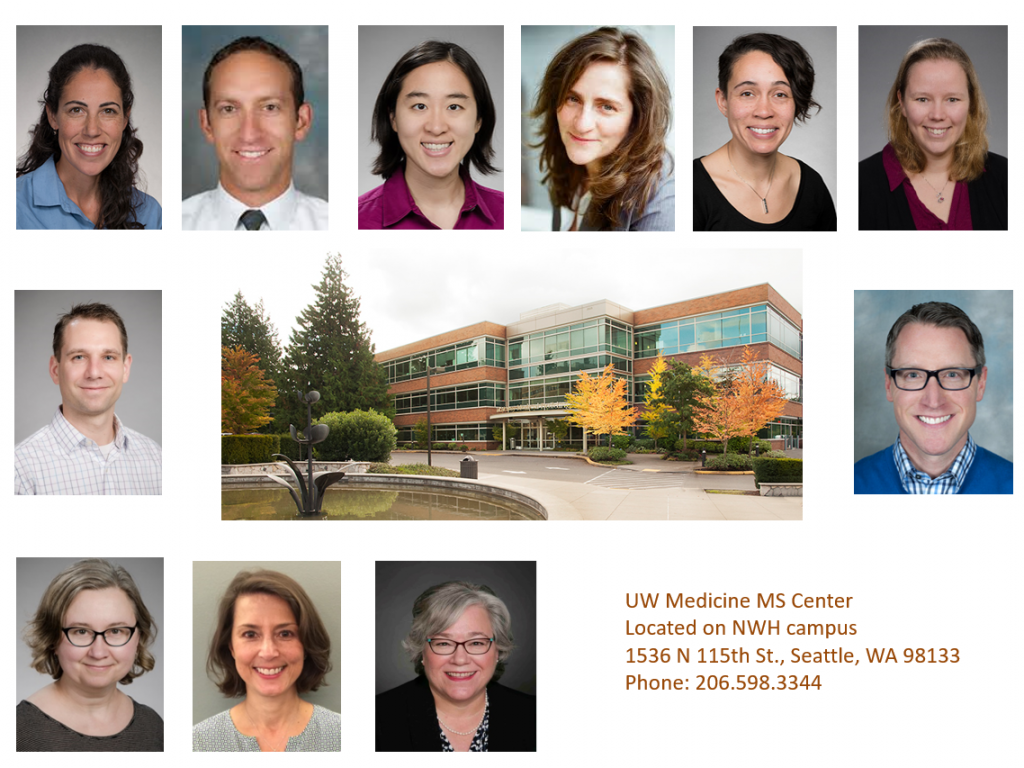 The UW Medicine Multiple Sclerosis Center is a state-of-the-art comprehensive specialty center where a team of providers with extensive training and experience in multiple sclerosis (MS) and other related conditions address each patient's individual needs. Our providers are experts who provide a full spectrum of services, including accurate diagnosis, differentiation of MS from other mimicking conditions, treatment, rehabilitation, and symptom management for our patients' optimal outcome and well-being. Our team consists of neurologists, a rehabilitation physician, rehabilitation psychologists, a nurse practitioner, a vocational counselor, a social worker, MS-trained nurses, infusion nurses, and a pharmacist. Our facility includes an on-site dedicated infusion suite and pharmacy as well as on-site MRI that facilitates same-day MRIs for patients with urgent symptoms or traveling long distances.
As part of the UW Medicine health system, the MS Center draws from the knowledge and expertise of a broad range of professionals. In addition to neurology and rehabilitation physicians who specialize in MS and conditions that mimic MS (e.g. neuromyelitis optica, optic neuritis, transverse myelitis), patients have access to professionals in many subspecialties and services:
Neuropsychologists
Physical therapists
Occupational therapists
Speech therapists
Wheelchair/seating and positioning specialists
Nutritionists
Urologists
Neuro-ophthalmologists
Orthotists
Driving rehabilitation specialists
The National MS Society has awarded the UW Medicine MS Center the "Partners in MS Care" designation for the highest level of comprehensive MS care. The UW Medicine MS Center is a member of the Consortium of Multiple Sclerosis Centers and collaborates closely with the National Multiple Sclerosis Society (NMSS) and the Multiple Sclerosis Association of America (MSAA).
Research
The University of Washington has been a national leader in multiple sclerosis research for over 40 years. Patients interested in research routinely have the opportunity to participate in studies related to quality of life, medical and behavioral approaches to symptom management, and medications, and report that it is meaningful to receive care in an environment interested in advancing MS clinical care.  The MS research program has received funding from the National Institutes of Health; National Institute on Disability, Independent Living, and Rehabilitation Research; Patient-Centered Outcomes Research Institute; National Multiple Sclerosis Society; Consortium of Multiple Sclerosis Centers; industry sponsors; and private donations.  Study findings are routinely published in leading journals, including Neurology and Multiple Sclerosis Journal, and are presented at national and international conferences.
Teaching
The UW Medicine MS Center is a world-class training center for the future leaders in multiple sclerosis care. We are proud to offer fellowship training for the next generation of MS physicians and psychologists, and have been awarded a multiple year training grant for our physician MS fellowship.
Please join us for our Monthly Education Sessions for Patients with MS
3rd Wednesday of every month 6 – 7:15pm
Join by Webinar: http://uofw.adobeconnect.com/neurology
Join In Person:

UW Medicine MS Center at Northwest Hospital
1536 N 115th St., Seattle, WA 98133
McMurray Building – Suite 130, MS Center Conference Room

Email msevents@uw.edu to request to be added to our mailing list to get monthly reminders for the program and specifics of each month's topic.
Your visit
When scheduling your visit, we will collect previous health information including PCP, other specialists, and locations of prior imaging/care.
Please arrive 15 minutes before your appointment to complete registration and check-in.
Please bring your photo ID and insurance card.
Anticipate 60-90 minutes for your first clinic visit.
The MS Center is part of the UW Medical Center. Patients who receive outpatient services will receive two bills:

One bill from the physician or other provider (for the cost of his or her professional services).
One bill from the hospital (for overhead costs, i.e. building, equipment, supplies, staff time).

Each of these bills may incur a co-payment or co-insurance for the patient.
The exact dollar amount of the co-insurance or co-payment will depend on the services provided during your visit and the coverage provided by your insurance. For information about facility fees and hospital-billing, please visit our facility fee FAQs.
Kelly Bender, Clinic Manager
Dr. Annette Wundes, Co-Medical Director
Dr. Gloria Hou, Co-Medical Director