Alliance for Pandemic Preparedness
Our Approach
The risk of pandemics has increased dramatically in recent decades, driven by multiple, large-scale changes. These changes include rapid population growth, intensified agriculture, deforestation, international travel, migration, poverty and social inequality, climate change, and alterations in human contact with animals, insects and other vectors.
In our global response to COVID-19 we see the limitations of our past approaches to pandemic threats: largely reactive, disjointed, outdated, and unable to adjust rapidly to changing conditions. There is an urgent need for new approaches to pandemic prevention and response that are more strategic, linked and proactive. These include:
Identifying "hotspot" places and populations at risk of emergence and spread of these diseases prior to an outbreak.
Developing and testing biomedical countermeasures and policy interventions to mitigate transmission
Translating complex information and innovations from lab research and fieldwork into timely, appropriate action at large scale.
A Proactive Approach to Pandemics
Through the participation and collaboration of scientific experts from 11 established UW centers, programs and institutes, we will provide  five critical functions that create an end-to-end continuum from basic science research to translational, on-the-ground solutions with real-world impact.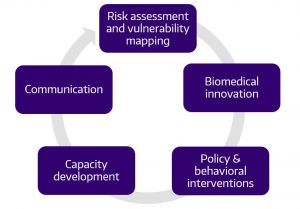 Define risk and outbreak vulnerability through field studies of humans, animals, and environments, big data analytics and modeling of climate and other drivers to prioritize prevention and control efforts.
Develop and test biomedical countermeasures including diagnostics, vaccines, and therapeutics for pathogens with high pandemic potential.
Design and evaluate policy and socio-behavioral interventions to reduce spread and save lives.
Build sustainable capacity to use these new tools through training, technical assistance, and implementation science.
Disseminate timely, evidence-based information to governments, the scientific community, at-risk populations, and the general public.