The Office of Research is thrilled to announce the launch of the UW Bothell  Undergraduate Research and Creative Practice Database.
Faculty can now recruit undergraduates to their research and creative practice projects any time of year.
Location: https://depts.washington.edu/uwbur
Students can also access it from: https://www.uwb.edu/research/undergraduate-research
Update January 18, 2017: Faculty posters from the Fall 2016 and 2017 Research Fairs have been added to the database.
Faculty Dashboard
https://depts.washington.edu/uwbur/manage-listings/
If you're not already logged in with your browser, you will be asked to log in with your UW NetID and then redirected.
You may have to wait a few seconds for the pub cookie message to clear.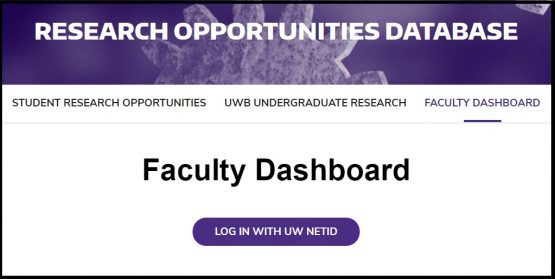 Once logged in, if you have projects, they will be listed below.
Click the title to see the project listing as the student/public views it
Click Edit to make changes
Delete if this project was posted in error
Add new listing if you have another project you would like to post
Listing View (student/public view)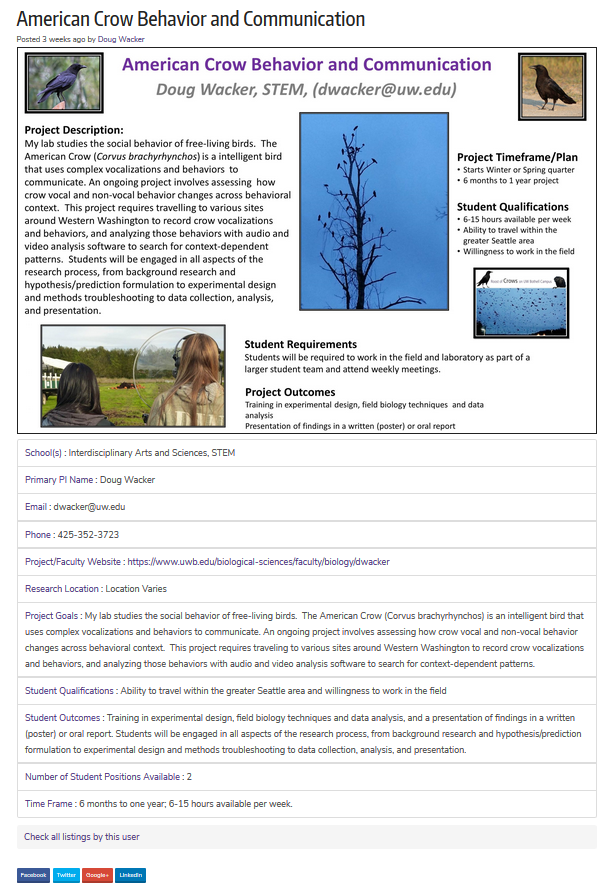 Recruiting Poster
All text must be typed out below for accessibility and searching.
Format .jpg, .jpeg
Poster width be 1200px wide (larger is ok)
Max upload is 10MB (most are around 2MB)
1 poster per listing
School(s)
List your school and other schools with which your discipline overlaps. For example, an environmental study would be listed as STEM and IAS. If it dealt with water quality, maybe NHS would be good to add as well.
Project Fields
These project fields follow the same format as the poster guidelines and help students find information easily. They are simple text fields (no italics, bold, bullets, links), so you may want to edit the bullet points into sentences.
Student positions available
The default is two, so please change this if this differs.
Faculty Resources