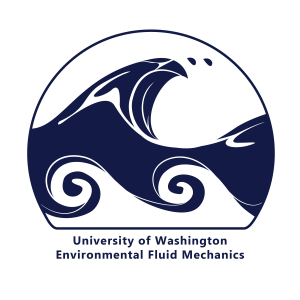 Who are we?
We are a group of scientists, principal investigators, mentors, engineers, professors, post-docs, friends, graduate students, technicians, and undergraduate students.
We study the dynamics of fluid flow as it relates to transport and mixing in rivers, estuaries and the coastal ocean. Recently, we've even investigated flows in floes (specifically, waves and turbulence in ice floes in the Arctic and Antarctic). We combine remote sensing and in situ measurement techniques to collect field observations and conduct laboratory experiments.
During the school year, we meet weekly. We share research updates, rehearse conference presentations, give chalk talks, or practice our writing and peer review skills.
In the summer, we meet weekly, too… but we grill lunch outside and sit in the sun (or shade) next to Portage Bay. We have yet to meet a potato chip, flavor of sausage (or tofu burger), or salsa we didn't like!
Some quarters, the students in the group meet after work one day a week to discuss recently published research in our field. Of course, this is best done over beers (or coffee) and we like to explore the bountiful breweries and pubs near campus!