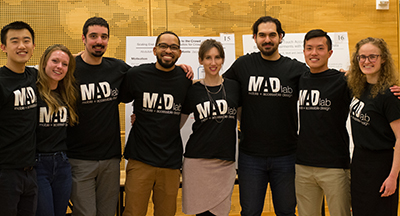 Students in the ACE Lab, formerly known as the MAD Lab.
What is the ACE Lab?
The ACE Lab at the University of Washington is housed in The Information School and comprises students from information science and computer science doing original research in the field of human-computer interaction (HCI). The lab is directed by Prof. Jacob O. Wobbrock.
Lab members create Accessible Computing Experiences, believing that interactive technologies should serve and enhance human experience for all people.
Lab members also create Advanced Computing Experiences, using artificial intelligence, machine learning, sensing, statistics, human factors, crowdsourcing, and rapid prototyping to build interactive systems that empower users.
Our past work has influenced accessibility on the iPhone, made gestures easy to design and implement, and has been the basis for startup companies, among many other contributions.
ACE members are active in the cross-campus
DUB Group
, the multi-departmental HCI & Design group
ranked #1 in the world
. Some members are also part of
UW CREATE
, the Center for Research and Education on Accessible Technology and Experiences.
Mission
To understand and create advanced interactive technologies that improve people's access to and experience of computers and information, especially for people with disabilities.
Feature Story
Read about the ACE Lab (formerly known as the MAD Lab) in this feature story by UW Information School News.
Our Values
Support the ACE Lab!
Please consider a tax-deductible gift to help us further our research and dissemination. Your gifts make a huge difference in the lives of students and our ability to advance the state of the art. Contact Prof. Jacob O. Wobbrock at

.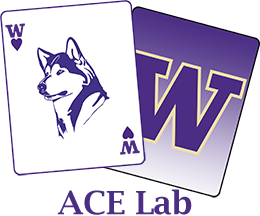 ======= 2020-2021 News =======
•

Anne Spencer Ross has successfully defended her dissertation entitled, "A Large-Scale, Multi-Factor Approach to Understanding and Improving Mobile Application Accessibility." She heads off to take an Assistant Professor position at Bucknell University. Congratulations, Annie!
June 22, 2021.

•

Anastasia Schaadhardt has her first CHI paper at CHI 2021 on understanding the problems faced by blind users of digital creativity tools, particularly artboard programs like Microsoft PowerPoint, Adobe Illustrator, Google Slides, and Apple Keynote. Congratulations, Anastasia! [PDF]
February 3, 2021.

•

Mingrui "Ray" Zhang has two papers on emoji recently accepted for publication: (1) a CHI 2021 paper on a new system called Voicemoji that enables blind users to enter emojis easily using voice control; and (2) an iConference 2021 paper studying the use of lexical and semantic emoji systems. Congratulations, Ray!
February 3, 2021.

•

Mingrui "Ray" Zhang has a book chapter on AI-driven text entry recently accepted for inclusion in Artificial Intelligence for Human Computer Interaction: A Modern Approach, to be published by Springer. Congratulations, Ray!
February 3, 2021.

•

ACE Lab alumnus Abdullah X. Ali has three papers recently accepted for publication: (1) a CHI 2021 paper on the effects of priming with sci-fi videos on gesture elicitation, learning, and recall; (2) an IJHCS article on using end-user elicitation to study computer iconography; and (3) an Interactions article on distributed interaction design. Congratulations, Abdullah!
February 3, 2021.

•

Rachel Franz receives the prestigious Apple Ph.D. Fellowship. Rachel will pursue the design of accessible ability-based virtual reality experiences. Congratulations, Rachel!
January 19, 2021.

•

Prof. Wobbrock receives an inaugural Google Award for Inclusion Research ($60,000) to develop the Ability-Based Design Mobile Toolkit, which will allow mobile apps to understand their users' situated abilities and respond effectively to them. The UW iSchool wrote a press piece on this work.
September 25, 2020.

•

Ather Sharif is the lead author on a paper accepted to ASSETS 2020 entitled, The reliability of Fitts's law as a movement model for people with and without limited fine motor function. Congratulations, Ather!
July 3, 2020.

•

Prof. Wobbrock is the founding co-director of CREATE, the new UW Center for Research and Education on Accessible Technology & Experiences, launched with a $2.5M donation by Microsoft. See the launch press coverage: UW News, iSchool News, GeekWire, Seattle Times, Puget Sound Business Journal.
May 28, 2020.

•

The Pointing Magnifier 2 is a "product-grade" rebuild of the original version from 2011. It is an area cursor that magnifies the contents beneath it in both visual and motor space, making targets easier to see and to click on. Useful for people with limited fine motor function and/or older adults. Check it out!
May 6, 2020.

•

M.R. Zhang & J.O. Wobbrock's paper on "Gedit: Keyboard gestures for mobile text editing" has been accepted to Graphics Interface 2020 to be held virtually in Toronto on May 28-29, 2020. Paper link.
May 6, 2020.

•

Kristen Shinohara et al.'s paper on "Design for Social Accessibility method cards: Engaging users and reflecting on social scenarios for accessible design" has now appeared on the ACM Digital Library. Have a look!
January 17, 2020.

•

Annie Ross et al.'s paper on "An epidemiology-inspired large-scale analysis of Android app accessibility" has been accepted to ACM Transactions on Accessible Computing. Congratulations, Annie! Paper link.
January 17, 2020.

•

A nice article by UW iSchool News describes three ACE members' summer internship experiences at Microsoft, Google, and Apple.
January 15, 2020.