Two periods of tree establishment. Establishment occurred during two broad intervals (mid- to late 1800s and mid-1900s), separated by a period of limited recruitment (see composite age structure, below). Recent establishment was not correlated with climatic variation. Grand fir dominated both intervals. (photos, below).
Composite age structure of trees

Composite age structure of trees in the four mapped plots. The initial period of recruitment is enlarged for clarity. Many pine that established in the original cohort still persist as snags (see photo below, right), but are not present in the live age structure.
Tree establishment was highly structured in space, but differed between species. Older pine were randomly distributed, but older grand fir were strongly clumped. Younger stems of both species were positively associated at small distances (both within and between species), but were displaced from older grand fir. Young and old grand fir commonly established in close proximity to young and old pine, respectively (see photos, below)
Establishment during the 1800s resulted in widely scattered pine and clumps of grand fir, placing most areas of meadow close to seed sources, permitting rapid invasion in the mid-1900s. Rapid conversion to forest occurred via colonization of larger meadow openings—first by pine, then by grand fir—and by infilling of smaller openings by grand fir. (See temporal sequence, right)
Conclusions
Spatial and temporal patterns of establishment at Bunchgrass Ridge suggest an invasion process strongly influenced by positive (facilitative) interactions among trees, with early recruits modifying local environments for subsequent establishment.
Once invasion is initiated, tree species with different life histories and functional traits can interact synergistically to promote rapid conversion of meadow to forest—even when climatic conditions are not optimal for tree establishment. This underscores the importance of biological processes—in addition to factors such as climate and fire—in the long-term dynamics of these systems.
Halpern, C. B., J. A. Antos, J. M. Rice, R. D. Haugo, and N. L. Lang. 2010. Tree invasion of a montane meadow complex: temporal trends, spatial patterns, and biotic interactions. Journal of Vegetation Science 21:717-732.
Sequence of establishment in one mapped plot (100 x 100 m)
1934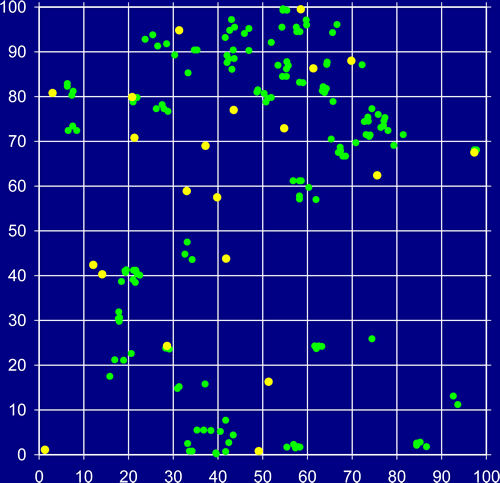 1974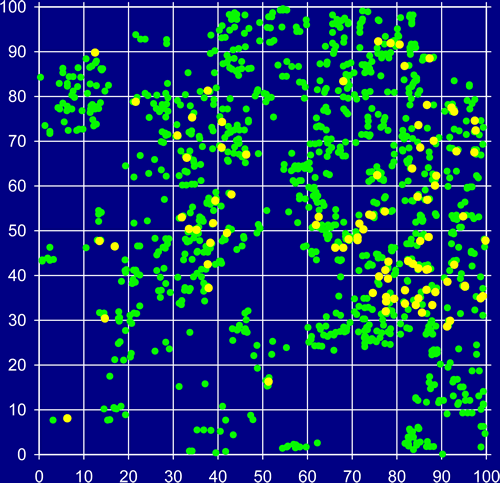 2004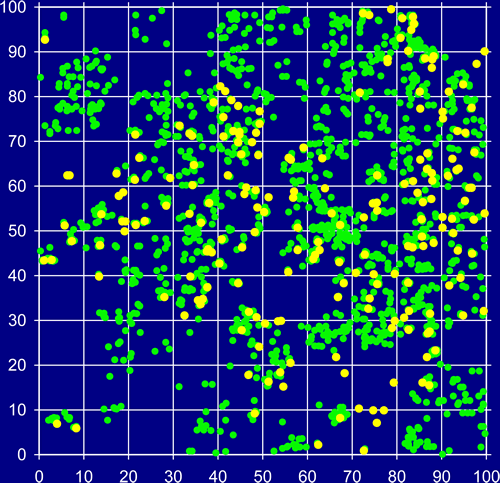 Trees in the 1934 plot are the original cohort. • grand fir • lodgepole pine