The centerpiece of our research program is an experiment that explores the potential for restoring meadows through tree removal and prescribed burning. It addresses the following questions:
Is tree removal sufficient to promote the abundance or diversity of native meadow species? Are there additional ecological benefits of fire?

Are there adverse effects of fuel-reduction methods (broadcast- or pile-burning) on
Soil properties?
Establishment of undesirable species?
Does the duration of tree influence (over decades to centuries) affect the potential for restoration of meadow vegetation?
Halpern, C. B., R. D. Haugo, J. A. Antos, S. S. Kaas, and A. L. Kilanowski. 2012. Grassland restoration with and without fire: evidence from a tree-removal experiment. Ecological Applications 22:425-441. PDF. Appendices
Experimental tree removal and prescribed burning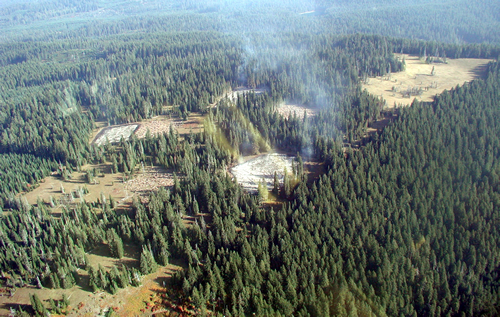 Bunchgrass Ridge, on 29 Sep 2006, one day after broadcast burning of experimental plots (areas with white ash).