We have conducted several studies to understand the acceptability of sensing and inference systems in the home. The first study used an anonymous postcard and surveys to understand and characterize the private moments that occur in the home that participants would not want recorded, which was published at UbiComp 2011. The second study used sensor proxies to probe people's responses in situ to sensing and inference systems. This work was published at UbiComp 2012, where it was nominated for best paper. Both studies were funded by and conducted in collaboration with the former Intel Labs Seattle.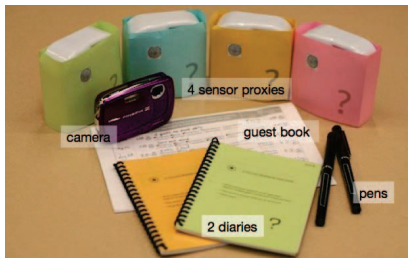 People
Eun Kyoung Choe
Sunny Consolvo
Jaeyeon Jung
Beverly Harrison
Shwetak Patel
Julie Kientz
Publications
Choe, E. K., Consolvo, S., Jung, J., Harrison, B., & Kientz, J. A. (2011, September). Living in a glass house: a survey of private moments in the home. In Proceedings of the 13th international conference on Ubiquitous computing (pp. 41-44). ACM.
Choe, E. K., Consolvo, S., Jung, J., Harrison, B., Patel, S. N., & Kientz, J. A. (2012, September). Investigating receptiveness to sensing and inference in the home using sensor proxies. In Proceedings of the 2012 ACM Conference on Ubiquitous Computing (pp. 61-70). ACM.