Emilio Aguayo is one of the pioneering Chicano/a muralists in Washington State. His empowering Chicano/a mural at the Ethnic Cultural Center, Somos Aztlan, was the first Chicano Movement mural in Washington state. It emphasizes Chicano/a self-determination and cultural pride.
He was a commercial artist before becoming a student at the UW from 1970-1972, having transferred from Seattle Central community college in 1970. He was extensively involved in student activism for the community while at the University of Washington.Aguayo also wrote for the UW Daily contributing to the regular column,"La Chispa."
While Aguayo wrote and painted murals, he also engaged in Vietnam-war protests at the UW and worked as a recruiter for the Office of Minority Affairs, Chicano Division. He recruited several Chicano/a students from local public high schools and from out of state, with the goal of bringing Mexican-Americans, who had historically been excluded from universities, to the University of Washington. He was also a member of the Chicano/a activist theater group, El Teatro de Piojo, for which he designed the theater logo.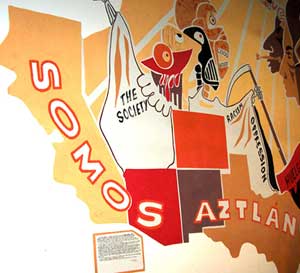 Emilio Aguayo, Somos Aztlan, wall mural at the Ethnic Cultural Center, Seattle.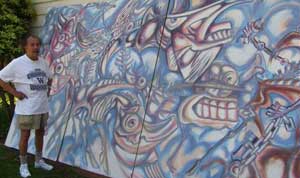 The Five Horsemen of the Apocalypse-Enemies of my People or Los Cinco Caballeros de Apocalypsis-Enemigos de Mi Gente (1977),painted for the Active Mexicanos multi-service center in Seattle via a Seattle Arts Commission grant.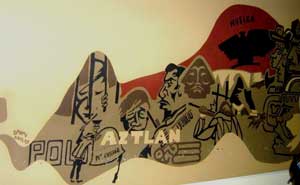 Wall Mural in Lander Hall, University of Washington.