Fred and Dorothy Cordova
Filipino Youth Association;
Filipino American National Historical Society
Fred and Dorothy Cordova have been involved in Filipino American activism since the 1950s. They began promoting Filipino American identity at a young age with student publications and organizations at Seattle University (see 1953 edition of Bamboo: The Filipino People in American Life). They later formed and directed the Filipino Youth Association (FYA), with activities ranging from soccer to dancing and marching. The FYA became an important force for organizing demonstrations in the 1960s and 1970s.
Dorothy Laigo Cordova also served as Director for the Demonstration Project for Asian Americans (DPAA), which conducted a wide variety of studies on the problems Asian Americans faced in the 1970s. Through the DPAA, she collected research and oral histories. After the DPAA closed in the early 1980s, the Cordovas moved their work to a new organization they had created called the Filipino American National Historical Society (FANHS), which they still run today.
FANHS now has nearly two dozen chapters around the United States. In Seattle, it houses the National Pinoy Archives (NPA), which is one of the largest collections on Filipino American history anywhere. It includes materials on more than 9000 individuals and approximately 1500 organizations throughout the United States.
Fred and Dorothy Cordova agreed to shared their memories of a lifetime of activism in two videotaped interviews, one conducted by James Gregory and Micah Ellison on January 12, 2005, the second by Donald Noble and Michael Schulze-Oechtering Castenada To the right are streaming-video excerpts.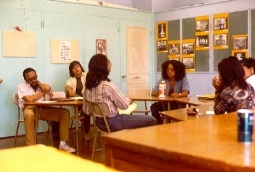 Fred Cordova (far left) at an FYA meeting in the early 1970s