At the invitation of his friend, Reverend Samuel B McKinney, Dr. Martin Luther King Jr. came to Seattle in November 1961. The visit proved to be much more controversial than expected. Rev. McKinney tells the story in a dramatic video interview. Click the video player caption to start.
Reverend Samuel B McKinney, pastor of Mt Zion Baptist Church, had been King's classmate at Morehouse College. In 1961 he invited the civil rights leader to Seattle and arranged for him to speak at First Presbyterian Church, a larger facility than Mt. Zion Baptist. But at the last minute, First Presbyterian leaders changed their minds, offering a variety of excuses. Civil Rights organizations denounced the decision and Rev. McKinney was forced to locate an alternative venue.
This sudden turn of events added to the controversy surrounding the visit. McKinney found other venues. On November 9, Dr. King to spoke on the UW campus where more 2,000 people heard him talk on "Segregation and the Civil Liberties: Implications for Students." That night he was at Temple de Hirsch and the next day spoke at Garfield High School and finally to a huge audience at the Eagles auditorium downtown.
Years later, as Rev. McKinney explains, First Presbyterian apologized.
Here is a lesson plan for teaching about Dr. King's visit to Seattle.
See the rest of Reverend Samuel McKinney's interview here.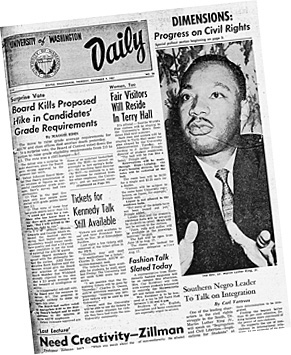 Photo: Columns Magazine, June 2000, image from UW Daily.