Participants
Dan Thorington is the custodian at the Alaska Maritime National Wildlife Refuge Islands and Ocean Visitor Center in Homer, Alaska, and an ardent enthusiast for recycling, composing, and living lightly on the land. Louise Bollman, Jaci Pumphrey, and Jeanne Pumphrey were three generations of Port Angeles, Washington residents with a penchant for walking the local beach. With Louise's recent passing, the torch has been passed to her great granddaughter Brittani, so three generations continue. Maggy Herbelin is a quintessential goat cheese maker in Eureka, California, who also finds time to run a radio program, Through the Eyes of Women, and volunteer for just about every major environmental event in the area. Alice Blandin worked in environmental studies at the University of Washington for many years before retiring with husband Bill to Camano Island, Washington. Phillip Zavadil is the Co-director of the Tribal Government of St. Paul's Ecosystem Conservation Office on St. Paul Island, in the middle of the Bering Sea.
What do these people have in common? They're all COASSTers!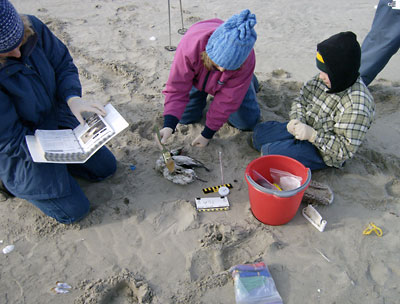 Cindy combs through the COASST guide while daughter Sarah and son Sean (some of COASST's youngest volunteers) tackle the bird portion.
Ranging in age from eight to over eighty, COASSTers in the lower 48 tend to be retired, but also encompass a diversity of jobs, from tribal biologists to teachers to artists. In Alaska, the age of our participants is a bit younger, perhaps reflecting the fact that hardly anybody retires to coastal Alaska! Instead, relatively more Alaskan COASSTers work for national parks, wildlife refuges, and tribal governments.
Our Executive Director, Julia Parrish, takes pride in telling new participants at training sessions "There are only two things you need to be able to do to become a COASSTer: tell what's in front of you on the beach is a bird, and know that it's dead…" COASST participants do not have to have years of scientific education, nor do they need to be bird experts. In fact, what unites COASSTers is a strong affinity for the coastal environment, the need to know more about the marine natural resources they live next to, and a desire to be part of the solution.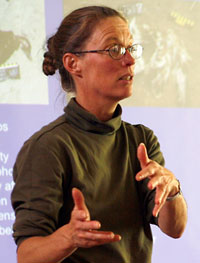 Julia helps guide new volunteers in Homer through the basics.
After only one 6-hour training session, you can become a COASSTer, too. In fact, we guarantee we can teach you to correctly identify beached birds, no matter how disheveled and disarticulated, in less than one day. 
COASSTers sign a 'contract' pledging to survey their beach every month—an acknowledgment that COASST data are most valuable when regularly collected. And the COASST office pledges to put all of the data together, decipher the patterns across the entire COASST range, and give that information back out to COASSTers, and the communities, in the form of our annual report—COASST Reports—our newsletter, COASSTLine, and our website.
Bitten by the bug for beach combing and wondering about what's happening to the local marine resources in your area? For more information about how to become a COASST participant, please see our Get Involved—Volunteer page.