Coordinators of the D Center
Leah Lakshmi Piepzna-Samarasinha
Advisor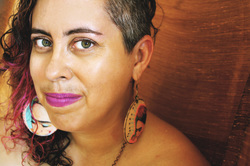 (Photo description: Leah is wearing large earrings that have a woman's face on them. She is wearing magenta colored lipstick. Her hair is shave on one side and the other side is about shoulder length with a stripe of pink in it.)
Leah Lakshmi Piepzna-Samarasinha is a queer nonbinary chronically ill femme of Sri Lankan, Roma and Irish ascent. A disability justice organizer, writer and cultural worker, she is thrilled to be working at the D Center. Her email is llakshmi@uw.edu
Nic Masangkay
Media Coordinator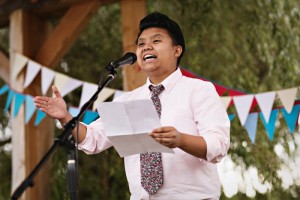 (Photo description: Nic is wearing a pink button down shirt with rolled up sleeves and a floral tie. They are holding a paper while saying poetry into a microphone.)
Nic is a Pilipinx, agender & trans, chronically ill and disabled trauma survivor. They are excited to be working in Winter Quarter as the Media Coordinator as they finish up their last quarter of undergrad.
Programming Coordinator
Finance Coordinator
Jessie Zhang is deaf, American-born Chinese (ABC), and female. She is currently in her third year and plans to study psychology, human-centered design & engineering, or informatics with a minor in diversity. Jessie looks forward to making the D Center a welcoming place that is affirmative of people with disabilities and the D/deaf community.