Coordinators of the D Center
Financial and Operations Coordinator: Quentin Emrys Davies
(Text description of the picture: Quentin is posing for a picture, with a snow-covered mountain and forrest in the background)
Quentin Emrys Davies is queer, non-binary, chronically physically and mentally ill, and Autistic. Ey are currently in eir second year at the Evans School of Public Affairs and are passionate about disability justice and collaboration with other groups and people trying to work to challenge existing systems of oppression.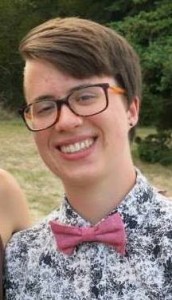 Programming and Outreach Coordinator: Tash Hansen-Day
(Text description of the picture: Tash posing for a picture wearing a patterned blue shirt and pink bowtie, with a green trees in the background.)
Tash Hansen-Day is a Deaf/Hard of Hearing, disabled, queer, white, trans/nonbinary human who is in their last year at UW in the Disability Studies program. They are excited about working at the d center and connecting with other communities to collectively work towards disability justice both at UW and in the wider community.
Media and Publications Coordinator: Apply today!
To become the D Center's Media and Publications Coordinator, please visit our home page for directions of how to apply. For questions about the position or application process, please contact Quentin at dcenter@uw.edu.