Welcome!
We would like to extend a warm welcome to all those visiting the e.g. website for the first time and all those returning to read our first issue in the new format. e.g. began as an online journal to showcase work from first-year expository writing students at the University of Washington. We have relaunched the journal with the vision of creating space to fuel interdisciplinary conversations–through publishing exemplary samples of undergraduate writing from across the nation–on timely, compelling topics. Click to read more…
We are proud to present our first special issue, On Violence.
Violence is a difficult subject, but it also constitutes a significant concern for modern life, as much now as ever. Given the very real threat of violence in the current socio-political global climate, discussions of violence allow us to both problematize and navigate the materiality of bodily harm, creating space for potential solutions. Though violence has an important place in aesthetics and popular media, the essays in this issue focus on real-world violence, from conflicts over land and power to gendered violence.
You can access the pdf version "On Violence" issue by clicking on the link or the image below.
"On Violence"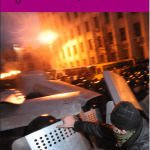 Below are links to online versions of the text provided in the "On Violence" Issue:
Violence against Women: An Interdisciplinary Approach by Iren Boyarkina
Principles of Conquest by John Carden