FHL is a Priority in My Life
By Jennifer Burnaford, Ph.D.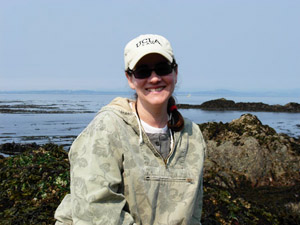 When I started graduate school at Oregon State University in January 1995, my advisors Jane Lubchenco and Bruce Menge were on sabbatical in New Zealand. I had zero experience in temperate marine systems and was in dire need of guidance, so on my first day I asked the older grad students what I should be doing. They said "apply for summer classes at FHL" and I did. That summer I took Marine Phycology from Mike Wynne and John Stiller and Marine Fishes from Karel Liem and Bruce Miller. I had an amazing experience in both courses, but it was Phycology that really caught my interest. From that first day in lab, when it took me 3 hours to key out Soranthera, I was hooked on algae and life at FHL.

Of course, at that point I had no idea how significant that summer experience would be or how much time I would spend at FHL. When the 1997 El Niño scuttled my plans for research in Oregon, I came back to the labs to work on my thesis on the community effects of the kelp Hedophyllum sessile (now Saccharina sessilis). My summer class experience and thesis work with algae got me hired as instructor of the Marine Botany short course at OSU in 1999. When my students started a 4 a.m. field trip with a performance of their song "Odonthalia!" (to the tune of "Oklahoma!") I knew I was in the right business! I was hired at FHL for my first full–term teaching job, as instructor of Marine Botany (part of the ZooBot quarter) in 2003. Teaching in ZooBot was the key factor in securing both of my subsequent jobs – a visiting assistant professor position at the University of Puget Sound and my current position as an assistant professor at California State University Fullerton (CSUF) – as both jobs included the opportunity to teach Marine Botany. I still have my notes and lab notebook from that first summer class, and every time I teach I refer to them.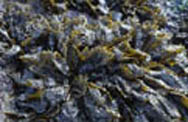 I have returned to FHL to conduct research each summer since I started my first faculty position in 2003. I've worked on several different projects, exploring the interactions between purple varnish clams and pea crabs, the effects of UV radiation on the movement of the sea star Pisaster ochraceus, and the feeding habits of the 6-armed sea star Leptasterias, to name a few. But I always come back to kelp. I never removed the markers from the plots I set up for my thesis work at Pile Point, and I have continued to work at this site. With the generous continued support from Brooks and Suzanne Ragen, I have been following the community in these 25 permanent plots which have remained undisturbed for 14 years. This has allowed me to detect a long-term cycle in community structure; and my current research is focused on exploring the mechanisms behind that cycle. I plan to keep working at this site for as long as I am able, and I feel extraordinarily lucky to study such an amazing system in such an amazing place.

Since FHL has had such a big influence on my life, I've made it a priority to introduce students to life at the labs. I've been a Blinks mentor five times, and I have brought numerous students from my home institutions to the labs for summer research (six undergraduates from the University of Puget Sound; six undergraduates and one graduate student from CSU Fullerton). Many of these undergraduates have gone on to graduate school in marine science and several have come back to FHL to take classes, TA, or do research. I find it particularly fun to bring students from CSUF (in the heart of Orange County, 9 miles from Disneyland) to FHL. Most CSUF students live at home while they attend college, and few have ever been away from their families for any length of time. Everything at FHL is a new experience for them, from living in a dorm, to rowing a boat, to devoting themselves full-time to research. Reflections from my CSUF students on their FHL experience include statements such as: "at Friday Harbor, there is access to just about everything that a student needs," "I met many interesting people who have influenced me and what I want to do with my future," and "I learned how to be an independent person." How can you beat that?!

That advice on my first day of graduate school started me on a completely unexpected journey – which, hopefully, will bring me back to FHL for many years to come.
photo credits: Scottie Henderson (top/left), Jennifer Burnaford (right)