Japan/U.S. Scholar Exchange Program in Japan
Trish Morse
From March 3 to March 7, 2014 a research-intensive course was given at the Misaki Marine Biological Station (MMBS) on the northern Coast of Sagami Bay in Japan. MMBS, associated with the University of Tokyo, is a partner with FHL in the Exchange Scholarship Program. Utilizing all my United miles, I ventured to Tokyo to witness the first US to Japan exchange involving two students, Lauren Vandepas, a Ph.D candidate in Billie Swalla's Laboratory and Michael Tassia, a UW undergraduate who also works in the Swalla laboratory as well as Carolyn Friedman's laboratory on the UW campus (Fig.1). This was the first trip to Japan for both of these students and their excitement and enjoyment of experiencing another culture was clearly visible. Ten students were enrolled in the course that was taught by four faculty members from MMBS. Topics included early development of ascidians, intracellular calcium oscillation at fertilization, sperm chemotaxis, preparation of histological sections of regenerating feather stars (crinoids), and observations of living and sections of Amphioxus. Both Lauren Vandepas and I gave additional seminars on Ctenophores and Meiofauna respectfully. The course was organized by Professor Mariko Kondo, a genome scientist who consistently looked after all of us during our stay in Misaki and in Tokyo.
Comments from Lauren Vandepas:
I'm a University of Washington graduate student who is a member of the Friday Harbor Labs community. Through the E. S. Morse Institute, I had the opportunity to take a weeklong invertebrate embryology course at the Misaki Marine Biological Station in Japan. My lab (PI: Dr. Billie Swalla) studies invertebrate development and chordate origins; the weeklong course at Misaki provided important, relevant experience to make and observe histological sections of a cephalochordate and bony fish, as well as observe the early development of the ascidian Ciona intestinalis and the urchin Hemicentrotus pulcherrimus. Our instructors, Drs. Kaoru Kubokawa and Daisuke Kurokawa were stellar and lead us through four separate experiments over the course of just a week! It was exciting to see what research is being done at the Misaki labs; meeting the graduate students who perform their research there and sharing our science with one another was gratifying. I am excited for Professor Akihito Omori to visit Friday Harbor in April! I hope the student and researcher exchange and partnership between the labs at Misaki and Friday Harbor will continue to provide a rich scientific and cultural experience for years to come!
Comments from Michael Tassia:
Through the E. S. Morse Institute, I was provided the opportunity to attend an embryology training course at the Misaki Marine Biological Station (MMBS) in Japan. The MMBS offered me the perfect setting to study marine biology and practice science in what I hope will be the first of many visits. During my week-long stay, I was able to meet students from many Japanese universities, instructors and professors at the forefront of their fields, and animals I had only read about in textbooks and journal articles. Of the three courses provided during my stay, I participated in the course focusing on early development in Hemicentrotus pulcherrimus and Ciona intestinalis, in addition to comparing the morphology and histology of bony fish to cephalochordates. Moreover, these topics provide information and techniques directly applicable to the sort of work performed in my lab (Swalla Lab, University of Washington). The E. S. Morse Institute has provided an unparalleled opportunity for me, and I look forward to the continued exchange of American and Japanese students in the future."
**********************************************************
After the course and returning to Tokyo, I accompanied Professor Koji Akasaka (the Director of the MMBS) to meet the Development Head of the University of Tokyo. We then joined several University of Tokyo (and Misaki MBS) faculty and our two US visiting scholars at the Mikimoto Headquarters on Ginja Street. Parallel in looks (and prices) to 5th avenue in New York, we were escorted to meet with the President of Mikimoto, Mr. Hitoshi Yoshida and shown the most recent (and wildly expensive and breath-taking in beauty) artistic creations of the Mikimoto Pearl artists. The history of the Mikimoto Pearl began many years ago with research at the Misaki MBS on the method to nucleate oysters to form perfect round pearls. The Mikimoto Foundation has provided the Misaki Marine Biological Station, in honor of the E. S. Morse Program a generous grant that paid all of the student expenses for our two scholars (Fig.2). It was indeed an honor to meet him.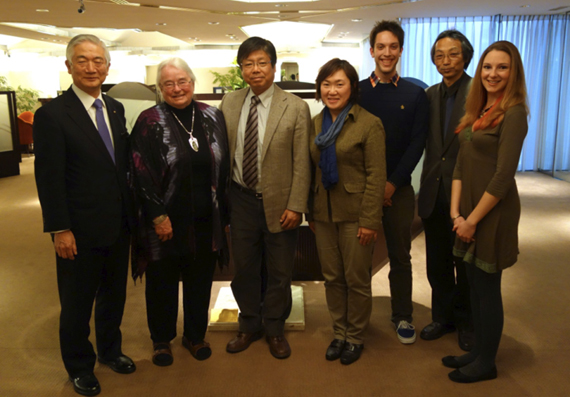 Upon my arrival at Narita, I met with the two co-founders of the US/Japan Scholar Exchange Program, Professor Motonori Hoshi and Dr. Makoto Omori. Mac-san took me to the Enoshima Aquarium where I once again was able to visit with Ms. Hori-san who is the founder of the Aquarium (Fig.3) and an admirer of Edward Sylvester Morse. Morse is still celebrated to this day, as you can see in the picture, and many of the Japanese scientists are very pleased we are again establishing a formal program for the exchange of scholars.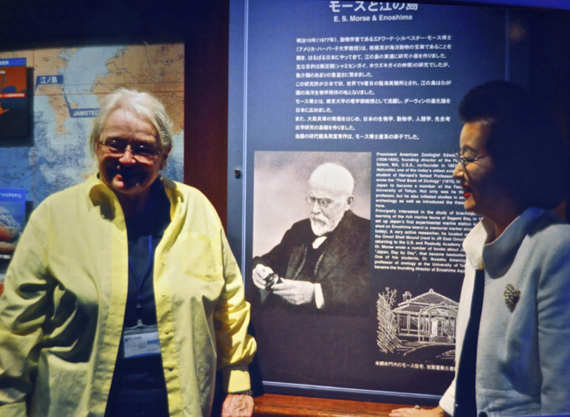 At a dinner in Tokyo, we initiated Lauren and Michael into the Edward Sylvester Morse Institute (Fig.4). Their passion for learning about the Japanese culture and their interactions with the students that will undoubtedly to be communicated through Facebook, bode well for continued success of the E. S. Morse Institute.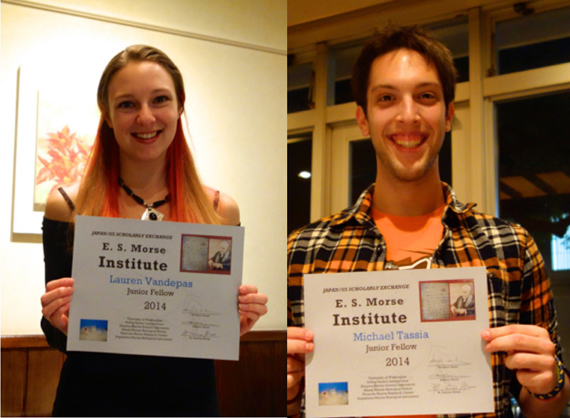 Perhaps the day will come when I do NOT have to declare that E. S. Morse is NOT my grandfather – he is in fact a very distant cousin. His reputation in Japan is as a very distinguished scientist, the first Professor of zoology and teacher of evolution at the University of Tokyo and every school child hears of his contributions of discovering the ancient pottery within the Omori Shell Middens.