Young Investigator Prize
Young Investigator Prize Entry Deadline: 16th April 2019
University of Washington / Friday Harbor Laboratories
The UW / FHL Young Investigator's Prize is awarded every year to a high school JUNIOR showing exceptional promise in the fields of Science and Mathematics. Regional students submit high school transcripts, two Letters of Recommendation (from teachers or scientists the applicant has previously worked with), and an essay describing their background and career goals. The winner is selected by a committee of University of Washington professors and is awarded a cash prize ($4,800 in 2019). The winner will spend the summer (8 weeks) as a full time research assistant in a UW / FHL Laboratory. Entry Deadline: 16th April 2019.
For more information, click on the image above.
2018 Winner (Full-time internship): Ms Thea Seitz, junior, Friday Harbor High School (FHHS).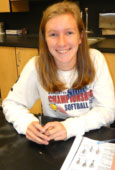 Thea Seitz has maintained a 3.9 GPA while attending Friday Harbor High School and taking several challenging AP Courses plus, Astronomy, Neuroscience and Oceanography. During her high school years she has been involved in the following co-curricular activities: Softball, National Honors Society, ASB, Leo's Club and a Math Tutor. Her passion for science and the environment has been shown by her work with the San Juan Island Conservation Corps and Washington State University Imagine Tomorrow. For Imagine Tomorrow she has been working with a group of students to create a proposal to instigate the replacement of diesel powered ferries with all-electric ferries in Washington State.
As the 2018 Young Investigator Prize, Thea worked this summer on cloning larval sand dollars, as part of the Swalla lab "Team Sand Dollar" with another high school student Annabelle Ackerley, and two undergraduate researchers Lauren Lubeck (Brown University) and Bea Grauman-Boss (Wellesley College). The team was interested in finding a means of reliably getting the sand dollars to clone, or pinch off, a small bit of the larva and make an entire new sand dollar from the new piece. They found that adding lithium chloride to the seawater would enhance cloning if the larvae were kept at variable temperatures. This research involved spawning sand dollars, rearing larvae and the algae to feed them, counting lots of larvae and looking for the tiny clones under a microscope. Thea learned all of these new techniques and procedures quickly and was an integral part of the team.
2017 Winner (Full-time internship): Mr. Zachariah Fincher, junior, Friday Harbor High School (FHHS).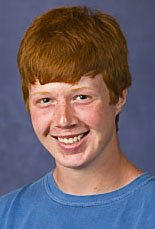 As a 3.9 GPA student at Friday Harbor High School, Zach has maintained making the Principal's Honor Roll since the start of his high school years while taking challenging Advanced Placement courses in Chemistry, History and more during his senior year. He is very active in the Robotics Club, Sailing Club and Drama Club as a singer, actor and dancer. In addition, he is involved in leadership roles in the community with the Leo's Club and San Juan Island Prevention Coalition. During previous summers' job he was the Assistant Crew Leader with San Juan Island Youth Conservation Corp. Zach has also been volunteering at Peach Island Medical Center to observe surgeries and assist patients.
As the 2017 Young Investigator Prize winner, Zach worked with Jim Truman, Lynn Riddiford and Rebecca Johnston in their newly established group studying the development, physiology and behavior of crustaceans. Zach was part of the research program on the small mysid shrimp, Archaeomysis grebnitzkii. His work included field collections and lab work. In the lab he developed skills in microdissection, of A. grebnitzkii's nervous system and used antibodies, immunocytochemistry and confocal microscopy to reveal different populations of cell types in its nervous system. By the end of his internship, Zach was screening new antibodies for use on mysid nervous systems and trouble-shooting protocols to establish the best staining conditions for each. The group is hoping that Zach joins their team again next summer as a regular summer employee!
2016 Winner (Full-time Internship) : Ms Beatrice Grauman-Boss, junior, Spring Street International School (SSIS).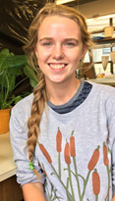 Beatrice has maintained a 3.9 GPA attending SSIS while taking many challenging AP courses and Molecular Biology and Medical Science classes at Oxbridge Academic Programs, Cambridge, England. Her enthusiastic passion for science has been shown through her involvement in a wide range of research projects at the UW, Friday Harbor Labs, National Parks Service and Grand Canyon Trust. Since 2011, Beatrice has participated in many (over 30) professional and nonprofessional theater productions as a stage manager, house manager, actor and musician. Beatrice is also a varsity soccer player. As the 2016 Young Investigator Prize winner, Beatrice had the opportunity to design and complete an original experiment on the larval development of sand dollars (Dendraster excentricus) in response to predatory cues with the guidance of Dr. Colette Feehan. She intends to submit her results for publication in the fall of 2016. As well, she completed CT scans and reconstructions using multiple 3D imaging programs and scanning software for Dr. Adam Summers' Scan All Fishes project and for his fish class. For Dr. Megan Dethier, she contributed to clam research in the field, by assisting in setting up a yearlong experiment, and in the lab, by counting and identifying microscopic juveniles. During her senior year, she will continue with more original research under the guidance of Dr. Megan Dethier.
2015 Winner (Internship) : Mr. Nick Armstrong, junior, Friday Harbor High School.
Nick Armstrong has maintained a 3.8 GPA while attending Ballard High School in Seattle, WA in his first two years of high school and at the Friday Harbor High School as a junior. In high school he has participated in several challenging courses including an engineering academy, robotics, AP Calculus AB, Japanese and more. At Ballard High Nick was on the Robotics team that placed 12th in the FHR World Championships in St. Louis. At FHHS he was on the Remote Operating Vehicle team that placed 4th in the Washington state ROV competition. Nick is also an avid soccer player.
2015 Winner (Internship) : Mr. Max Kessler, junior, Spring Street International School.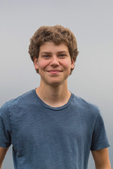 Max Kessler has maintained a perfect 4.0 GPA attending Spring Street International School while taking the most advanced and rigorous courses offered including AP Calculus BC and AP Physics. His interest in science and conservation has been shown through his early-on involvement in the San Juan Island Conservation Corps and the Coast Observation and Seabird Survey Team. He worked at the Friday Harbor Labs as a photo editor, digitally enhancing and organizing images that are online in the FHL Image Gallery. Most recently, Max created a short documentary, Searching for Green, about climate change and sustainable energy that won an Audience Choice Award at the Friday Harbor Film Festival. Max is a member of the Friday Harbor sailing team.
As 2015 Young Investigator Prize winners, Nick and Max had the opportunity to work with Dr. Louise McGarry. Their worked focused on the data analysis phase of a study investigating in situ behavior and movement of copper rockfish in the waters at Friday Harbor Marine Labs. For this study, a newly designed state-of-the-art marine acoustic telemetry system was installed near Colin's Cove and transmitting acoustic tags were surgically implanted in copper rockfish. The advantage of acoustic telemetry systems is the persistent monitoring of mobile marine organisms. For this proof-of-concept study, Max and Nick assisted by examining, testing, and documenting performance of the acoustic system for three phases of data processing. This turned out to be a very important part of the data-heavy project. Max also completed a Matlab tutorial gaining knowledge and experience in this numerical computing and data visualization environment.
2014 Winner (Full-time Internship): Mr. Quinn Freedman, junior, Spring Street International School.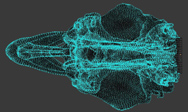 Quinn has maintained a 3.99 GPA at Spring Street International School, taking several advanced and honors courses as well as travelling extensively with the school, including a Spanish immersion program in Spain and volunteering with community projects in Morocco and Ethiopia. Quinn has pursued his scientific interests by enrolling in cryptology and engineering online courses from both Brown and Stanford Universities, and has worked with Kwiaht's Indian Island Marine Health Observatory Program as a founding member and independent investigator, engaged in invertebrate monitoring, toxicology sampling and a marine micro-plastics density survey. Quinn was the youngest graduate of the Washington State University's San Juan Beach Watchers Program, completing over 200 hours of community service monitoring native steelhead through beach seining. Quinn is also composer of music. As a Young Investigator Prize winner, Quinn had the opportunity to work with Dr. Adam Summer's fish morphology class and spent his time constructing functional models of shark skeletons. Quinn used CT scans to extrapolate basic 3D models of shark jaws and then used a 3D modeling program to refine & reconstruct missing patches & anomalies. Quinn designed models that are easily printable in plastic using a 3D rapid proto-typer. It is Quinn's hope that these new models can be distributed online and be easily printed by anyone with access to a 3D printer, which would be especially useful for demonstration and teaching purposes. Pictured above is Quinn's 3D wireframe rendering of a Lamnaditropis (salmon shark) lower jaw.
2013 Winner (Full-time Internship) : Ms. Emily Guard, junior, Friday Harbor High School.
Emily has maintained a perfect 4.0 GPA at FHHS while taking several challenging AP courses as well as being a three-season athlete, holding student leadership positions and being active in her island community. Emily plays varsity soccer, basketball and softball and was named to the 1st Team All-League for both soccer and softball for multiple years. Emily is a member of the National Honor Society, is a class senator as well as secretary of the ASB, is co-vice president of H.O.T.S. and vice president and secretary for Key Club, and she plays the trumpet in the band. After 2-years spent studying with the Orca Bowl team, this past year Emily competed as a team member, successfully placing in the National Ocean Sciences Bowl in Milwaukee. Emily volunteers her time with island youth activities at Island Rec, the Prevention Coalition and Island Art. As a Young Investigator Prize winner, Emily worked with interim FHL Director, Dr. Billie Swalla in her lab working with Pisaster Ochraceus (purple sea star) larvae and regeneration. Emily conducted experiments to test Wnt signaling pathway involvement in sea star larvae's regeneration (Wnt signaling plays a critical role in the embryonic development.) Emily was a valued member of Dr. Swalla's lab and they are continuing to run the experiments she started with the hope of publishing results in a collaborative research paper in the near future. Emily enjoyed her experiences, especially getting to work with a variety of lab equipment on complicated processes and being a part of a FHL research team.
2012 Winner (Full-time Internship) : Mr. Michael Barsamian, junior, Friday Harbor High School.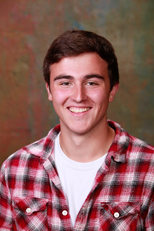 Michael has maintained a perfect 4.0 GPA (Honors & Principals Award) at FHHS while taking several AP classes in physics, chemistry, history and government as well as a UW Oceanography course. Michael has long been interested in mathematics and sciences, especially physics, oceanography, and engineering. Michael was on the 1st place Orca Bowl team that went on to compete in the National Ocean Sciences Bowl, was Head of Communications for the FHHS MATE ROV Team and is a member of the district STEM committee. Michael is active in student organizations and attended the YAIL Leadership Conference through the SJI Rotary Club and tutors other students in math, chemistry and physics. Michael enjoys sea kayaking and has been on the FHHS varsity soccer team since his freshmen year. This past year he started a school Futsal program and helps to coach youth soccer on SJI. Michael is enthusiastic about following his passions and hopes to pursue a future involving marine sciences and engineering. As a Young Investigator Prize winner, Michael worked in the Intertidal Biomechanics lab of Dr. Emily Carrington. Assisting with on-going projects within multiple laboratories, he helped to monitor temperature and pH within the Ocean Acidification lab, dealt with urchin and fish morphometrics, and completed a multitude of other projects.
2012 Winner (Part-time Internship) : Mr. Graham Crawbuck, junior, Spring Street International School.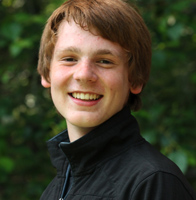 Graham holds a 3.99 GPA at Spring Street International School while tackling several challenging AP and honors courses including anthropology, psychological literature, Spanish and calculus. Graham has had the opportunity to travel extensively through the SSIS travel programs and has participated in Spanish language schools in both Spain and Peru and has volunteered with community projects in Spain, Peru, Morocco, India, and Thailand. Graham has acted in many SSIS and community theater productions and is a graduate of The Whale Museum's Marine Naturalists Training Program. During his freshman year, Graham contacted Dr. Sandy Wyllie-Echeverria at FHL about an idea he had for a seagrass restoration project. In 2010 he helped the REU (Research Experience for Undergraduates sponsored by the National Science Foundation) team at the FHL Seagrass Lab as a research assistant, where he honed his investigative research skills while conducting controlled experiments and assisting with results analysis. As a Young Investigator Prize winner, Graham continued his work with the Seagrass Lab and was invited to intern with 2 visiting professors from UW and Cornell University conducting an Ecology of Marine Infectious Diseases summer course at FHL. Graham assisted by collecting and preparing samples and helping with course exercises which focused on infectious pathogens that are harmful to marine seagrass populations.
2011 Winner (Full-time Internship) : Ms. Audrey Olshefsky, junior, Friday Harbor High School.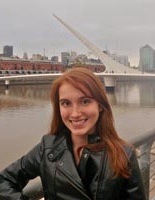 Audrey maintains a 3.99 GPA (ranked first in her class) at FHHS while actively participating in her school and community. She has participated in a variety of clubs including Key Club, LEO Club, beach clean-ups, Operation Christmas Child, Rotary International's Youth Adventures in Leadership seminar and has volunteered as a youth soccer referee. She also enjoys playing soccer, basketball, and is a member of the Friday Harbor High School Sailing Club. Audrey spent a semester of her sophomore year in Argentina as an AFS foreign exchange student. Since here freshman year, Audrey has been on the 1st place winning Orca Bowl team (preliminary competition for the National Ocean Science Bowl) for the last two years and hopes to major in an area related to Oceanography in college. As a Young Investigator Prize winner, Audrey worked in the subtidal community ecology lab of Dr. Kenneth Sebens. Assisting with a number of ongoing projects she analyzed photo surveys of large mobile invertebrates and fish in San Juan channel to track long-term changes in distribution and abundance, identified and processed organisms obtained from rocky habitats to study impacts of predators on benthic organisms, and served as surface support for diving operations.
2011 Winner (Part-time Internship): Mr. Shaughn Anderson, junior, Friday Harbor High.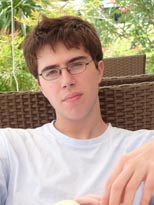 Shaughn holds a 3.9 GPA at FHHS while taking a variety of difficult science courses including AP classes. He's focused and motivated in his studies and hopes for a future career in science. In addition to his passion for science, Shaughn has also been involved with drama, tennis, and track. He's a member of ASB, the LEO Club and the Environmental Club. During the summer of 2010, Shaughn participated in an Independent Study at Friday Harbor Laboratories with Sandy Wyllie-Echeveria including analyzing seagrass leaf and seed tissue. Shaughn also contributed towards writing scientific papers co-authored by Sandy Wyllie-Echeveria and Adam Summers. As the Young Investigator Prize winner, Shaughn played a key role in summer research. He assisted Christina Bonsell, the REU mentored by Dr. Peter Swarzrnski and Sandy Wyllie-Echeveria, in a project to assess Ground Water Discharge in the San Juan Archipelago. His work included the deployment of sensors, setting up tanks for controlled experiments and collecting and analyzing samples for nitrate analysis. Also using the Scanning Electron Microscope (SEM) he continues to characterize fine structure in the three species of seagrass (Zostera marina, Z. japonica and Phyllospadix scouleri) that are the focus of investigation by the Seagrass Lab at FHL.
2011 Winner (Part-time Internship): Mr. Robin Gropp, junior, Orcas Island High School.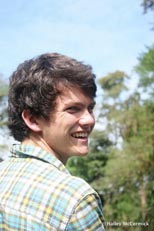 A diligent student at Orcas Island High School, Robin has a 3.78 GPA while taking a variety of challenging courses including AP courses. He has been interested in the natural world since he was young and continues to explore areas of science. During the summer of 2009, Robin participated in a Farm Education and Sustainability course where he propagated pollutant-filtering oyster mushrooms near areas of high oil run-off. He also spent time with a school group in Costa Rica participating in tropical studies and environmental science at the La Selva Biological Research Station. There he studied behavioral patterns of leaf-cutter ants and symbiotic relations of Bromeliads with tropical trees. As a Young Investigator Prize Winner, Robin worked in the subtidal community ecology lab of Dr. Kenneth Sebens. Using digital photo analysis techniques and photos from the 1970s and 2000s, he tracked birth, growth and death rates of the native cold-water cup coral Balanophyllia elegans to explore effects of climate change on these organisms. Additionally, he served as surface support for diving operations and assisted with a lab experiment addressing cup coral growth rates.
2010 Winner: Mr. Stephen Chadwick, junior, Friday Harbor High School.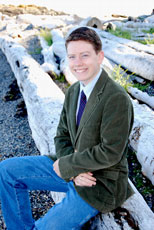 A high achieving student at Friday Harbor High School, Stephen Chadwick has taken almost every rigorous math and science class his school offers, ranging from AP Physics to AP Calculus, while still achieving a 3.96 GPA. He spends his time outside school working with friends to create science and electrical projects and is in the process of creating a "Physics and Engineering Club" at his school. In the summer of 2009, Stephen received an internship under Dr. Mike Kaill. He worked to monitor levels of surfactants in storm water run-off going into Friday Harbor. For his future, he plans to pursue a PhD and to work as a research scientist in one of the scientific fields he finds so interesting. As the Young Investigator Prize winner, Stephen spent the summer working on a wide variety of projects in the Spatial Subsidies Lab (Drs. David Duggins and Kevin Britton-Simmons). This research addressed the importance of seaweed biomass in "fueling" the entire nearshore ecosystem.
2010 Winner: Mr. Nicholas Roberts, junior, Friday Harbor High School. (Nick was awarded the Young Investigator Prize but did not accept the prize money or summer internship because he accepted another exciting internship at the Jet Propulsion Lab in Pasadena, California.)
Nicholas Roberts has maintained a perfect 4.0 GPA (Honors & Principals Award) at FHHS including AP course in US history, physics, chemistry, calculus, government, English literature and environmental sciences. Nick is a very self-motivated student and is constantly challenging himself to go one step further than is required, including his goal to complete all of the Advanced Placement classes offered at FHHS. Nick is a leader in his math and science classes and helped to organize an after school study group for students who needed additional help. Nick has been on the National Ocean Science Bowl (Orca Bowl) for the past 3 years winning two third place wins as well as a first in the statewide competitions, going on to compete at the national competition. Nick is an avid sailor and plays both soccer and tennis for FHHS and is a member of the FHHS hiking club. Nick is a member of the Key Club, is the ASB School Board Representative, and a part of the HOTS (Helping Out Teens Society) program. In 2009 Nick worked as a research assistant at the FHL Seagrass Lab helping to collect data for an on-going study as well as conducting an independent project looking at the affect seed size and proportions have on settling rate for seagrasses.
2009 Winner: Ms. Hannah Snow, junior, Friday Harbor High School.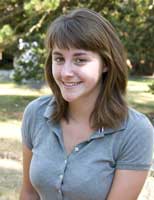 As a 4.0 student at Friday Harbor High School, Hannah has maintained making the Principal's Honor Roll since the start of her high school years while taking four Advanced Placement courses. She has spent several years participating on Washington State's Ocean Sciences "Orca Bowl" team. A well-rounded student, Hannah plays the alto sax in her school's Jazz and Concert band, she is the captain of the varsity soccer team, enjoys playing doubles tennis and is a member of the hiking club. She also greatly contributes to her community through various volunteer projects such as Relay for Life, Kicks for Breast Cancer, and by coaching soccer camp for local elementary school students. Hannah has also had the opportunity to work as a research assistant for Russel Barsh, a local scientist at Friday Harbor Labs and head of the KWIAHT Organization. This included testing water quality for surfactant levels, doing bioassays, and doing wetland entomology. As a Young Investigator Prize winner, Hannah worked with Emily Carrington during the summer of 2009. She helped with research on the effect of temperature shifts on species interactions. Specifically, Hannah helped with field and laboratory studies of the foraging patterns of intertidal whelks on their barnacle prey.
2008 Winner: Mr. Peter Duggins, junior, Spring Street International School.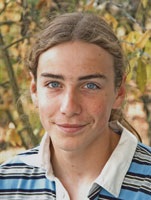 Mr. Duggins is a 4.0 student at the Spring Street International School and a graduate of their unique program in Biotechnology and Immunology. In the summer of 2007, Mr. Duggins worked as a research assistant in Neurophysiology for Dr. A.O.D. Willows (Professor Biology, UW). This work on geomagnetic perception in Tritonia diomedia is part of an ongoing research program elucidating the neurophysiology and neural anatomy of this model marine invertebrate. In 2008, Mr. Duggins worked with Dr Pedro Verdugo (Professor Bioengineering, UW) on carbon cycles in the ocean, particularly the biochemistry and microbial utilization of aquatic gels. Mr. Duggins spent winter quarter (2008) studying in Southeast Asia and working on service projects including: construction of a micro-hydro power generator in a Karen refugee village (northern Thailand), and procurement of fire detection systems for Buddhist temples and monasteries (Bhutan).