Alumni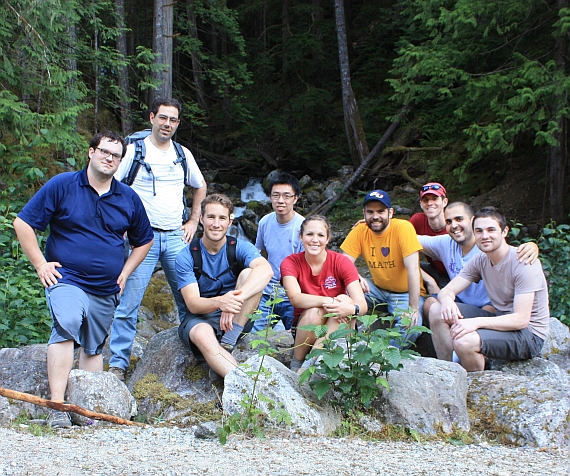 Craig Hill

Postdoctoral Researcher
Craig joined UW and the lab in December 2015. He received his PhD from the University of Minnesota in 2015 investigating the interactions between complex topography and sediment transport and the impact they have on the performance and wake characteristics of axial flow marine renewable energy systems. Prior to graduate studies at the University of Minnesota, Craig received a BA in Geology from the University of St. Thomas, and worked as a Research Engineer at St. Anthony Falls Laboratory in Minneapolis, MN from 2006-2012 on various projects ranging from physical model studies of hydraulic structures, fluvial geomorphology and stream stabilization/restoration studies, lab and full scale wind energy research, and modeling of hydrokinetic energy systems. Craig's current research utilizes both lab and field scale turbines and aims to improve the survivability and performance of marine energy systems using active control strategies, as well as continue to investigate the impact marine energy systems have on the environment.
Teymour Javaherchi

Postdoctoral Researcher
Teymour Javaherchi, is a full time instructor at Everett Community College, as well as a postdoctoral researcher in Mechanical Engineering at the University of Washington in Seattle. His research interests involve energy and fluid. Currently he is working on numerical simulation of tidal turbines, which convert the raw energy of tides (driven by the gravitational pull of the sun and moon on the oceans of the earth) to useful energy (mechanical power and electricity). He uses commercial software packages, such as FLUENT and Star CCM+, for doing a comprehensive numerical simulation of the flow behavior around the tidal turbine blades.
Teymour did his undergraduate in the Sharif-Aachen (SUT-AcUAS) cooperation program in Mechanical Engineering. He studied for three years at Sharif University in Iran and then completed his bachelor thesis at Aachen University of Applied Science in Germany with emphasis on understanding and measuring reflectance and transmission degree of solar panel surfaces. He continued his education in the Master of Science program at Aachen University of Technology (RWTH-Aachen) in Germany. During his studies there, he had the opportunity to go to the University of Pennsylvania and after one semester there he became intrigued with the work done by professor Aliseda at University of Washington and joined his research group at fall 2008.
Teymour's main goal is to make significant contributions in the production of clean energy for mankind through collaborative research on the fluid aspect of energy in order to improve the efficiency of current technology for renewable energy sources such as tidal energy.
Colin Bateson

Ph.D. Student
Colin joined the lab in June of 2008. He received a BS from the University of Virginia in Aerospace Engineering. While there he conducted research to characterize the material properties of gold thin films for MEMS applications. Currently, his research at UW focuses on studying the effect of air turbulence on water droplet behavior in clouds.
Chin Hei Ng

Research Assistant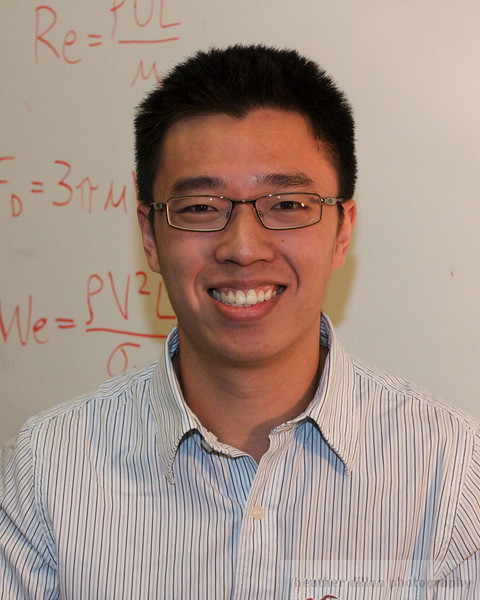 Chin graduated from the University of Washington with a BS degree in Mechanical Engineering in 2006. He joined Martin Engineering afterward where he studied bulk material flow by utilizing computational tools, such as Discrete Element Modeling (DEM). In 2009, he joined the lab as a research assistant and continues his education in Mechanical Engineering.
Chin's research focuses on the atomization process, where applications range from spray coating to fuel injection. Currently, he is conducting experiments on both Newtonian and non-Newtonian fluids atomization.
Patrick McGah

Postdoctoral Researcher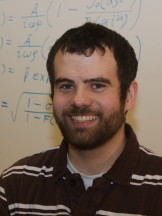 Although Pat is originally from Kansas, he has been calling Washington his home for over nine years. Pat has done research on the numerical simulation of cardiovascular flows and the fluid-structure interaction between the blood flow and blood vessel walls with Professor Alberto Aliseda. His PhD focused on Arterio-Venous Fistulae for Dialysis Access, using a combination of 3D and Doppler Ultrasound to inform and validate numerical simulations of the fluid and solid mechanics in the complex vascular remodeling around AV fistulae. For his Postdoctoral research, he is extending his research portfolio into intracranial aneurysmal flows and Central Venous Catheters, while also learning new experimental techniques, such as PIV and PLIF, for the in-vitro study of vascular phantoms of patient-specific anatomical models.

After completing a degree in mechanical engineering, at Gonzaga University in Spokane, he immediately ventured to the western side of the state for graduate studies. Pat recently completed a Master of Science degree and is continuing his education by pursuing a doctoral degree.
For his master's thesis, Pat studied under the guidance of Professor James Riley. He used a custom computational fluid dynamics code to simulate the complex behavior of ferromagnetic fluids, or ferrofluids. In particular, he studied unstable and transitioning flows driven by thermo-magnetic and convective instabilities. These flows have possible applications for convective heat transfer in electronic devices.

Ryan Keedy
Ph.D. 2013
Studies of Turbulent Round Jets Through Experimentation, Simulation, and Modeling



Danny Bolleddula
Ph.D. 2011
Droplet Impact and Spreading of Viscous Dispersions and Volatile Solutions



Taylor Hall


Riley Gorder
M.S. 2010
Mass Transport and Shear Stress within the Carotid Artery Bifurcation: A Study of Flow Effects on Atherosclerosis



Cheryn Engebrecht
M.S. 2009
Bubble Dynamics in Ultrasound



Alberto Molina
Greg Moreau & Marc Percie Du Sert
Research Scholars from French Naval Academy 2014
Numerical investigation of lab-scale horizontal axis marine hydrokinetic turbines arrays





Julie Serre
Research Scholars 2013
Numerical study of Horizontal Axis Hydrokinetic Turbines: performance analysis over a 7° pitch angle blade



Arthur Cerisola
Research Scholars from Arts et Mètiers ParisTech 2012
Numerical Analysis of Tidal Turbines using Virtual Blade Model and Single Rotating Reference Frame



Maxime Tessier & Nicolas Tomasini
Research Scholars from French Naval Academy 2010
Numerical study of horizontal axis hydrokinetic turbines: performance analysis and array optimization





Mario Beweret & Florian Riesemann
Research Scholars from French Naval Academy 2009
Array Optimization of Marine Hydrokinetic Turbine





Guillaume Flouriot & Aurelie Gosset
Research Scholars from French Naval Academy 2008
Optimization of Power Extraction in an array of Marine Hydrokinetic Turbines