For Health Care Providers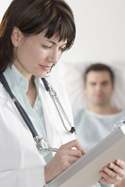 The Health Care Transition is a critical part of the transition to adult life, yet reports from families indicate that it is unlikely to be addressed by the pediatric health care provider in an organized, timely, and planned manner. Adult providers report that they receive little or no training in caring for adults with childhood-onset conditions, whether chronic illness or disability. Finding qualified and willing adult providers to accept patients who may have inadequate funding, yet require increased time commitment and expertise, is difficult. Families and pediatric providers alike are reluctant to initiate the transfer of care under these circumstances.
This website has many resources on transition to adult life in general for youth with chronic illness or disabilities. It also has resources specific to Health Transition. This section for providers offers resources specifically addressed to health care providers.
Transition Big Picture outlines transition services and what is addressed in the school setting.
General Resources includes articles that address health transition broadly, information on current policy and research efforts to address the complex problems of providing transition and adult health services, and other reference sources.
Diagnosis-specific provides abstracts from professional literature that address either transition for a patient with a specific diagnosis or diagnostic category, or adult health trajectory for individuals with specific childhood onset diagnoses or diagnostic categories.
Refer to the other sections of this website for materials to recommend to families and youth.