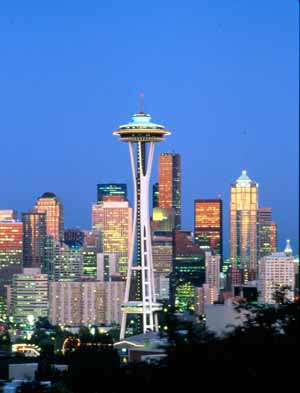 Seattle is famous for rain, coffee, and airplanes. It is the home of Microsoft, Amazon.com, Starbucks, and Boeing. Surrounded by water and mountains, Seattle residents enjoy a mild climate, clean air, and proximity to natural beauty. The seafood is particularly good, and there many excellent sushi restaurants in town. The Canadian city of Vancouver, British Columbia is a three-hour drive to the north, and Portland, Oregon is a three-hour drive to the south. Seattle and nearby Tacoma both have active ports through which much of America's trade with Asia flows. Seattle's most famous landmark is the Space Needle (pictured) built in 1962 for the World's Fair. Mount Rainier National Park, though a two-hour drive from the city, is spectacularly beautiful and well worth a visit if you have time.
Downtown Seattle attractions include the lively Pike Place Market, where fresh produce, fish, and flowers are sold; the critically acclaimed new central library building designed by Rem Koolhaas; the Asian supermarket Uwajimaya in the International District; historic Pioneer Square and the historical undergound walking tour; and the waterfront where you can take boat tours of Puget Sound.
The waterfront is where you can catch ferries to Bainbridge and Vashon islands. Although close enough to the city to function as suburbs, the islands are an oasis of natural beauty with a slower pace of life.
Also worth visiting are the boat locks and fish ladder, where you can see salmon swimming upstream to spawn.
One popular way to get a quick view of the city's major attractions is to take an amphibious duck tour.
Like any major city, Seattle also has a vibrant nightlife, a good local music scene, lots of good restaurants, major league sports, museums and performance spaces. Feel free to ask about activities that appeal to your interests.
For more information, see:
City of Seattle guide for visitors
Seattle guide from Seanet Corp.