Graduate Program in Neuroscience
About Seattle
Did you know Seattle's built on top of ruins? Or that the Pike Place Market started because of overpriced onions?
T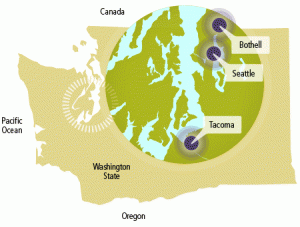 he entire central business district burned down in 1889.  It started with a woodworker and hot glue.  Residents decided to rebuild on top of the rubble rather than relocate, raising streets up to 22 feet in the process.  There's an Underground Tour that takes visitors along the sidewalks and storefronts that existed before the Great Fire.
The price of produce, onions in particular, skyrocketed between 1906 and 1907. Consumers as well as civic leaders believed price-gouging wholesalers were to blame. So the city proposed a public market where customers could buy directly from farmers. In August 1907, Pike Place Market opened for business. Today, it's the oldest continually operating farmer's market in America.
Seattle's one of the fastest growing big cities in the U.S. with 15,000 residents added in the past year.
Despite its rainy image, Seattle gets less annual rainfall than New York, Houston, Boston, and Atlanta.
A great place to Plan Your Visit to Seattle is to check out our visitor center.