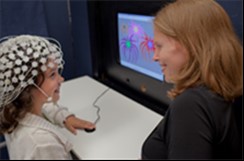 Seattle Children's Innovative Technologies Lab (SCITL) is dedicated to developing everyday technologies for improving the lives of children with autism spectrum disorders (ASD) and other developmental disabilities.
Their WONDER study will study the development of the social brain over the first three years of life with an ultimate goal of studying developmental trajectories of infants born at risk for developmental delays. The longitudinal project sees infants at 6-, 12-, 24-, and 36-months-old and uses eye tracking and brain imaging technologies as well as developmental assessments to map early brain development. All work will be done from Seattle Children's Research Institute in downtown Seattle.
What to expect:
Hands-on involvement with participants during their study visits.
Train to assist staff during experimental sessions with families
Observe and film standardized developmental assessments.
Data entry, data management, and visit preparation and tracking.
Occasionally provide childcare to older siblings.
At a minimum students volunteer in 3 hour shifts twice a week (typically during business hours)
Skills/Experience Preferred:
Detail-oriented, reliable
Ideally have previous experience with infants or young children.
Experience or interest in experience with children with special needs is a plus.
Reliable transport downtown and punctuality is a requirement.
Commitment:
Three consecutive quarter minimum
Students must be registered to receive credit for their first quarter
To apply: