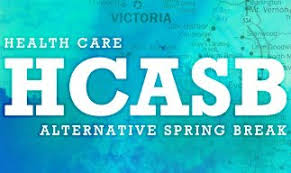 UW Healthcare Alternative Spring Break (HCASB) is looking for motivated and responsible undergraduates to serve as Team Leaders for next year's spring break healthcare shadowing trip. Being a Team Leader provides a great leadership opportunity as well as a chance to shadow healthcare professionals for approximately 30-35 hours during spring break in 2020. You will also have the opportunity to expand both your written and verbal communication skills with healthcare professionals and your pre-health peers.
They are looking for undergraduates (first-year through third-year) who will be present on-campus next year and have an interest in healthcare to help set up shadowing positions across Washington, Idaho, and Oregon for Spring Break in 2020.
The Team Leader role includes contacting hospitals and clinics in rural communities throughout the rural Pacific Northwest to arrange shadowing for a small group of pre-health students, reaching out into the community to find host housing, and supervising your group throughout the trip. As you immerse yourself in your shadowing experience, you will have the opportunity to learn and experience healthcare disparities first-hand. You will conclude your trip with community service in the rural community; past opportunities have included inspiring high school students to pursue a post-secondary education as well as teaching a GED class to migrant workers.
If you are interested and want to know more about the Team Leader position, feel free to contact them a at tlcoordinators@gmail.com. 
Follow this link to apply: http://hcasb.org/team-leader/
Note: Prior experience with Healthcare Alternative Spring Break is not necessary.
The deadline to apply is May 27th, 12:01 AM