Autism Biomarkers Consortium Clinical Trials (ABC-CT)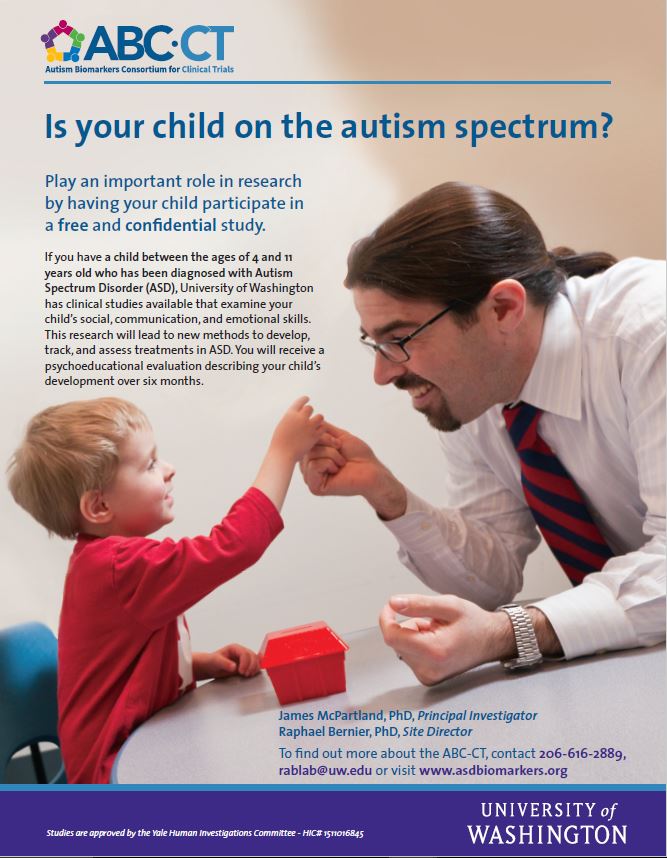 Is your child on the autism spectrum? Play an important role in research by having your child participate in a free and confidential study. If you have a child between the ages of 6 and 11 years old who has been diagnosed with Autism Spectrum Disorder (ASD), The University of Washington's Bernier Lab has clinical studies available that examine your child's social, communication, and emotional skills.
This research will lead to new methods to develop, track, and assess treatments in ASD.  You will receive a psychoeducational evaluation describing your child's development over six months.  To find out more about ABC-CT, call 206-616-2889, email rablab@uw.edu or visit www.asdbiomarkers.org. The Bernier Lab is located at The Center for Human Development and Disability.
Studies are approved by the Yale Human Investigation Committee- 1519016477.