Autumn 2011- Winter 2012
Alumni Focus
Pat Livingston
MS, College of Fisheries, UW 1980
The Bulk Biomass Model: a stock assessment tool?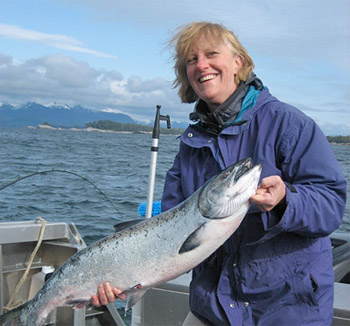 Courtesy of Pat Livingston
Pat Livingston is the director of the Resource Ecology and Fisheries Management Division at NOAA Fisheries' Alaska Fisheries Science Center (AFSC). She originally hails from Michigan, where early on she developed an interest in the life aquatic. Pat credits daily fishing trips during summer vacations in the upper peninsula, as well as an ecology course taught by a high school teacher as early inspirations for her pursuit of aquatic science.
As an undergraduate at Michigan State University's Fisheries and Wildlife Department, Pat majored in fisheries. Realizing that a quantitative background was very important, she took computer programming, calculus, linear algebra, statistics, and ecosystem modeling courses in addition to the standard fisheries and wildlife courses.
As a graduate student at SAFS, Pat studied with faculty member Steve Mathews. She credits Steve for "encouraging me to take quantitative population dynamics and statistics classes and helping me get my first job at the National Marine Fisheries Service (NMFS; now NOAA Fisheries)." Her MS research, conducted at NMFS, focused on the construction, validation, and sensitivity analysis of a mass-balance ecosystem model of the Gulf of Alaska.
After completing her MS, Pat continued working at AFSC on various multispecies and ecosystem modeling projects. Eventually, she moved up the ranks from staff researcher to manager of the Resource Ecology and Ecosystem Modeling Program and ultimately to her current position, where she focuses on advancing ecosystem approaches to management.
When Pat returned to graduate school for the second time, she chose a fairly untraditional route: "I got another MS degree, this time in public administration, with an emphasis in natural resource policy. This was in part spurred by my working with our policy and programming officer at AFSC."
Early in Pat's AFSC career, she initiated a program to better quantify the food habits of groundfish, which was included in multispecies and ecosystem predator–prey models. She said, "SAFS emeritus professors Bob Francis, Robert 'Bud' Burgner, and Bruce Miller supported this program. Bud and Bruce enabled me to use SAFS students to do the lab analyses, and several students completed Master's projects based on this work."
In 1989, Pat became an affiliate professor at SAFS and since then has mentored a number of our students and served on several dissertation committees.
Now, Pat supports SAFS students primarily by finding space and resources for them when they are working with REFM staff. She added, "I also enjoy being contacted to discuss career options with students interested in working for NOAA Fisheries." In addition, she recently served on the SAFS search committee for the quantitative marine ecology and population faculty position, which is supported partially by AFSC. She said, "I am pleased that Trevor Branch was selected and is becoming internationally known for his work."
Pat readily credits her SAFS education in getting her where she is today: "The strong quantitative emphasis of SAFS and the internationally renowned faculty mean that students are well-prepared for jobs at NOAA Fisheries and wherever employers are seeking people with strong analytical skills. I continue to emphasize the importance of a quantitative background to students who contact me for career advice."
Pat's AFSC work during her SAFS education provided her critical financial support and research experience. She, along with other AFSC and Northwest Fisheries Science Center staff, have enabled many SAFS students to follow in their footsteps over the years. We thank Pat and her colleagues for their longstanding support of SAFS, and we look forward to many more years of collaboration.
Sage Chaiyapechara
MS, UW 2002; PhD, UW 2008
Bacteria Associated with the Gastrointestinal Tract of Rockfish (Sebastes spp.) Larvae Reared in Aquaculture Settings
Sage Chaiyepachara was born in Bangkok, Thailand. He followed in his father's footsteps in education and career path: Both received Royal Thai Government scholarships to attend college in the USA, and both obtained government jobs in Thailand focused on resource management—his father with the Forestry Department (now retired) and Sage with the National Center for Biotechnology and Genetic Engineering (BIOTEC)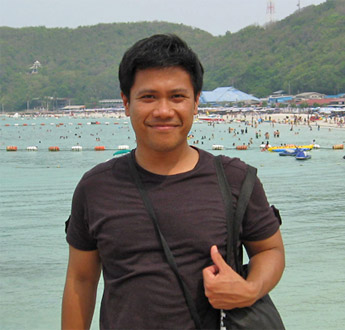 Courtesy of Sage Chaiyapechara
Sage did his undergraduate studies at Cornell University. For his honor's thesis, he conducted a feeding trial and product-quality analysis with tilapia in an engineering class focused on recirculating aquaculture systems. He said, "This was relevant to my homeland, where there were strong concerns over the environmental impact of aquaculture—a major industry—particularly shrimp in mangrove areas."
Sage's Cornell experiences made him realize that culture practices could be greatly improved; his search for a graduate program that would enable him to gain the knowledge and skills needed to achieve such improvements led him to SAFS. At SAFS, Sage studied with Faye Dong for his MS degree. Funded through the School's Western Regional Aquaculture Center (WRAC), his research focused on the growth and prod­uct quality (yield, taste, and appearance) of rainbow trout fed high lipid diets supplemented with vitamin E. He elaborated: "I became well-known for running the 'taste testing' sensory panel to quantify the taste of fish fillet from the experiment."
Sage trained 15 people to recognize flavor attributes of fish, and then had them taste the trout and score the taste. He quipped, "I'm not sure if I've ruined or enhanced the panel members' enjoyment of fish for life. Recently, a panel member told me he can still detect one of the 'tainted' flavors I trained him to recognize almost 10 years ago!"
For his PhD study, Sage worked with Russ Herwig to investigate the bacterial community associated with the intes-tinal tract of larval rockfish. He chose this subject because "I was interested in disease management in aquaculture, which also is very important in Thailand."
After graduating, Sage returned to Thailand to work at BIOTEC's Aquatic Molecular Genetics and Biotechnology Laboratory). The Lab focuses largely on shrimp aquaculture, especially on broodstock improvement and disease prevention. Sage noted, "I was lucky because I joined BIOTEC when they were seeking someone to do a detailed characterization of the intestinal bacteria of shrimp. Thanks to my SAFS education, I was able to get started on this right away."
Next, Sage will be studying the role of shrimp intestinal bacteria in disease resistance and nutrition; he said, "Our goal is to make shrimp aquaculture more sustainable by reducing antibiotic use and minimizing the negative impact on the environment."
At BIOTEC, Sage also works with students from Chul­alongkorn University. "I advise a Master's student, who is doing his thesis research at the lab," he said, adding that "the Lab's research atmosphere and facilities appeal to many students."
Reflecting on his SAFS education, Sage emphasized the diverse research pursued by the faculty and students: "The perspectives I gained from fisheries, aquaculture, and aquatic ecology helped me think about my research questions more deeply than I would have done otherwise. This was so valuable because at BIOTEC, we focus on so many different topics, making it critical to think about the bigger picture, look for ways to connect the dots, and find some common ground with people in other fields."
Sage acknowledged the financial support he received from SAFS, including two research grants and a John Halver Fellow­ship: "I'm very grateful as it allowed me to continue my work after the funding from the Thai Government ended. Without the Halver Fellowship, I would have taken much more time to finish my PhD."