Autumn 2011- Winter 2012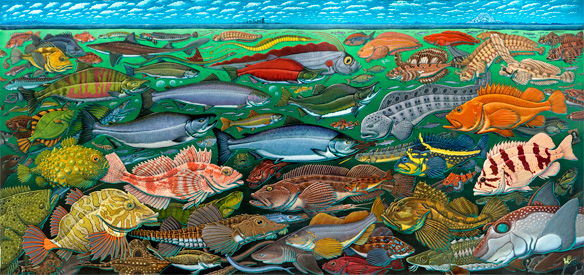 SAFS Welcomes New Mural by Ray Troll
"Fishes of the Salish Sea"
How many of you are familiar with the "Spawn 'til you die" t-shirt? This is the work of artist Ray Troll, who creates unique blends of art and science that have graced books, magazines, museums, and other venues across the nation. His creations focus on ichthyology and paleontology with a "street smart sensibility" that has engaged and entertained audiences for decades. Ray is also a musician, having recorded several CDs, typically accompanied by his band, the Ratfish Wranglers.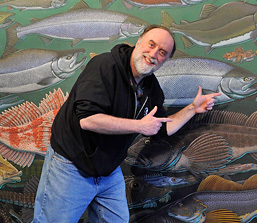 Ray Troll in his Ketchikan, Alaska studio
Ray first came to SAFS some 25 years ago, meeting with faculty member Ted Pietsch. Ray noted, "I met Ted at Archie McPhees, a famous novelty store in Seattle, when Brad Matsen and I were working on our first book together called Shocking Fish Tales. Ted kindly invited us to see the collection, and from there I tumbled ever deeper into the wonders of ichthyology as he and other faculty took me under their wings (which are really only modified pectoral fins in the big evolutionary scheme of things!)."
Over the years, Ray maintained his SAFS connection, modeling his subjects on Fish Collection specimens, and interacting with school members through venues such as the Seattle Aquarium and Burke Museum.
As Ray expanded his scope from t-shirts to large murals, Ted got the idea to ask him to do a mural for the school. With Ray's blessing, Ted, along with faculty member Ray Hilborn, started a fund in 2006. Along with donations from SAFS faculty and staff, a number of friends of SAFS contributed funds.
Ted initially suggested the theme be Puget Sound fishes. But given that aquatic organisms don't recognize borders—and with the formalization of the "Salish Sea" in early 2011, covering Puget Sound, the Strait of Georgia and the Strait of Juan de Fuca—it only seemed natural that the mural would be named "Fishes of the Salish Sea."
On November 2nd, SAFS celebrated the installation of the mural. The well-attended event was replete with food—including a roast pig courtesy of Ray Hilborn—and musical performances by Troll and a backup band comprising Director David Armstrong and several other UW denizens.
The mural, which is 15' by 7', graces the SAFS lobby. Among other attributes, it includes several 3D fishes and some features glow in the dark. We invite you to view this wonderful addition to our school!
Additional images of the mural celebration can be seen at the bottom of this page and at the UW News & Info webpage.
How well do you know your Salish Sea fishes?
Test your knowledge of Salish Sea fish species! Take your best guess using the image at the beginning of this article and then check the key.

Reception Photos