Welcome from the Editor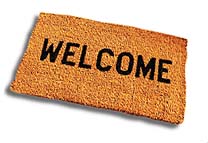 The Transfer eNewsletter goes out quarterly during the academic year to prospective transfer students and advisers at the community colleges in the state. I am pleased and honored to see our readership statistics growing and growing—more than 9,400 visits to this website were made in the last year! I hope that the articles included in this and previous issues of the eNewsletter have helped and are helping students with the transfer process to the UW. Read more...

Remember Transfer Café!
Between 2:00-4:00 on Thursdays in the Gateway Center, UW students who transferred here and are members of the transfer honorary society, Tau Sigma, staff an information table to answer questions about student life on campus. When you come for Transfer Thursday, remember to say hello and talk to someone who's been there, done that, and lived to tell the tale!

Upcoming UW and Departmental Application Deadlines

Why Does It Take So Long, Anyway?
Notification for autumn transfer admission takes place in June and July. Because we receive thousands of applications every year, the review process is lengthy. The University takes great care in assessing applications and does not rush the selection of future students. While this process requires patience on the part of many applicants, the benefit is that each applicant is reviewed as an individual. Read more...

Coming Autumn 2007: American Sign Language
Plans are underway for the University of Washington to begin teaching American Sign Language (ASL) in Autumn 2007. Read more...

Department Update: Environmental Health
Since 1947, the Environmental Health Undergraduate Program has trained hundreds of undergraduates to protect people in the Puget Sound region and beyond from man-made and naturally occurring human health hazards like arsenic in drinking water or methylmercury in certain types of fish. Read more...

Upcoming Scholarship Deadlines
If your goal is to attend the University of Washington-Seattle, and you would like to find funding for your undergraduate years and beyond, here are some thoughts to get you started. Read more...

Transfer Student Interview

Interview with Transfer Student Farah Nousheen. Read more...

Evening Degree Program: A Life Changing Opportunity
"This experience has changed my life" is a common expression heard by those of us who have the privilege of working with Evening Degree Program students. Hailing from board rooms to art studios, the Seattle Times to Metro Transit, Microsoft and Boeing to social service agencies, EDP students range in ages 20-60+ and come from all walks of life to complete their degrees. Read more...

Summer Institute in the Arts & Humanities
The theme for the 2007 Summer Institute in the Arts and Humanities, which will run from June 18th to August 17th, is: "New Directions in Cultural Research: Community Collaboration Practice." It will be taught as an intensive, site-based practicum in emerging methods and practices of engaged cultural studies research. These emerging practices combine interpretive, ethnographic, and performance-based methods, and open avenues for scholars to participate as creative producers as well as critical interpreters of culture and cultural artifacts. Read more...

Outside the Classroom: Art on Campus
When classes are taxing their energies and the skies are gray, UW students have several oases of visual art to ease their burdens and help them escape to another place. Whether you're an art major or just an art lover, the variety of art found on campus, open for the viewing, can be a wonderful salve for the worn-out soul. Read more...

Department Update: Biochemistry
The Chemistry Department is in the process of creating a bachelor of arts in Biochemistry. The Department has been given "permission to develop" status from the Higher Education Coordinating Board (HECB) with final approval of the degree awaiting HECB approval. Read more...