WINTER 2007 | Issue No. 8
IN THIS ISSUE:

Print-ready PDF version
UW VIRTUAL TOUR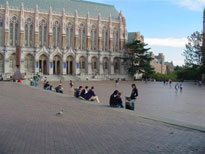 TRANSFER THURSDAYS
Thinking about transferring to the UW? If you are,
Transfer Thursday is your gateway to transfer information
. At a Transfer Thursday session, you can speak to an admissions counselor who will tell you all about applying to the UW. You can also meet with an undergraduate academic advisor who will help you prepare for your intended UW major. Bring your questions and your unofficial transcript(s). It's one-stop shopping for the prospective transfer student.
Where:
University of Washington
171 Mary Gates Hall
When:
Every Thursday 1:00 - 4:00.
Admissions sessions
begin at 2:30!
For more information:
(206) 543-2550 or click
here
.
CREDITS
Megan McConnell
Editor
Jennifer Stock
Webmaster
Contributors:
Susan Inman
Megan McConnell
James Meadows
Connie Montgomery
Jessica Salvador
Theron Stevenson
Lani Stone
The Transfer eNewsletter is a project of the UW Undergraduate Advising Gateway Center.
Evening Degree Program: A Life Changing Opportunity
By Connie Montgomery, Director, Advising and Recruitment, UW Educational Outreach
"This experience has changed my life" is a common expression heard by those of us who have the privilege of working with Evening Degree Program students. Hailing from board rooms to art studios, the Seattle Times to Metro Transit, Microsoft and Boeing to social service agencies, EDP students range in ages 20-60+ and come from all walks of life to complete their degrees. Personal enrichment, fulfilling a lifelong goal, "beating my kids to college graduation," career advancement and a passion for lifelong learning bring them here. These dedicated individuals often balance school with full-time job and family responsibilities while maintaining very strong GPA's. They come alive at night, finding learning ignites them with energy and passion. Often, fears about success accompany Evening Degree students who may have been absent from college for 1 to 20 years. Those fears quickly dissipate as they engage with the strong community of support that they find in the program. "I was so impressed with the support I got from my fellow students. The openness about their lives and willingness to engage in real discussions wasn't like any other experience I had up to this point," was a comment from a recent graduate. One instructor coined the phrase, 'EDP: Exceptionally Dedicated People,' from his experience teaching such motivated and committed students. Faculty find great fulfillment teaching in Evening Degree. They are often amazed at the vitality and engagement these students bring to the classroom.
While everyone else is ending their academic day, these students arrive on campus to begin exploring a rich, diverse curriculum. They learn about Medicine in America, Pow Wow Tradition and Innovation, Geography of Inequality, News Writing, Studies in Short Fiction, International Environmental Politics, Communication Conflict and Cooperation, Consumption and Consumerism in the Modern United States, the Arts in Japan, and Greek Mythology. They also share stories about their lives and work practices as they relate to the topics presented. "I found myself learning about what happens in other companies and organizations. Then, I bring those ideas back to my work place. I give people suggestions, too. I never expected my work in business and my liberal arts education to overlap in this way," was one students' observation. The synergy of the curriculum, students' life experience and strong community make for a very unique and rewarding learning opportunity.
The Evening Degree Program quarterly application deadlines are separate from the day program's. It is a degree completion program, so all of the students have transferred to the UW from at least one other institution and sometimes five or six! The web address for the Evening Degree program is www.evedegree.washington.edu. The program has five majors: Communication, English, Humanities, Social Science and Health Information Administration. International and domestic students are encouraged to apply. With a separate application process from the day, many students can qualify. We have space and love to talk with prospective students about their goals. The deadline for summer is May 15 and autumn is July 15. If you know of students who might enjoy a strong sense of community, smaller classes and a truly enriching experience, please refer them to the UW Evening Degree Program.