WINTER 2007 | Issue No. 8
IN THIS ISSUE:

Print-ready PDF version
UW VIRTUAL TOUR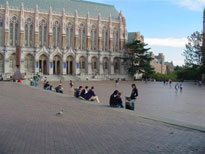 TRANSFER THURSDAYS
Thinking about transferring to the UW? If you are,
Transfer Thursday is your gateway to transfer information
. At a Transfer Thursday session, you can speak to an admissions counselor who will tell you all about applying to the UW. You can also meet with an undergraduate academic advisor who will help you prepare for your intended UW major. Bring your questions and your unofficial transcript(s). It's one-stop shopping for the prospective transfer student.
Where:
University of Washington
171 Mary Gates Hall
When:
Every Thursday 1:00 - 4:00.
Admissions sessions
begin at 2:30!
For more information:
(206) 543-2550 or click
here
.
CREDITS
Megan McConnell
Editor
Jennifer Stock
Webmaster
Contributors:
Susan Inman
Megan McConnell
James Meadows
Connie Montgomery
Jessica Salvador
Theron Stevenson
Lani Stone
The Transfer eNewsletter is a project of the UW Undergraduate Advising Gateway Center.
Bachelor of Arts to be Offered in Biochemistry
By Lani Stone, Academic Advisor, Department of Chemistry
The Chemistry Department is in the process of creating a bachelor of arts in Biochemistry. The Department has been given "permission to develop" status from the Higher Education Coordinating Board (HECB) with final approval of the degree awaiting HECB approval. The proposed BA in Biochemistry is designed for students who are interested in studying biochemistry, but who are seeking a broader educational experience than is practical given the extensive upper-division lecture and laboratory requirements of the existing bachelor of science degree. The BA in Biochemistry requires 180 credits (the BS in Biochemistry requires 196 credits) involving a variety of elective courses in related sciences, history, and public policy . The BA degree program will provide students with a fundamental background in biochemistry, and also gives students the chance to expand their educational focus with courses in related areas of interest. We hope to have the BA in place by autumn quarter 2007.
Please contact advisers@chem.washington.edu if you have any questions regarding the proposed BA in Biochemistry.