WINTER 2007 | Issue No. 8
IN THIS ISSUE:

Print-ready PDF version
UW VIRTUAL TOUR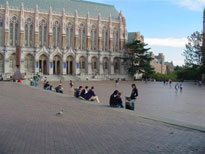 TRANSFER THURSDAYS
Thinking about transferring to the UW? If you are,
Transfer Thursday is your gateway to transfer information
. At a Transfer Thursday session, you can speak to an admissions counselor who will tell you all about applying to the UW. You can also meet with an undergraduate academic advisor who will help you prepare for your intended UW major. Bring your questions and your unofficial transcript(s). It's one-stop shopping for the prospective transfer student.
Where:
University of Washington
171 Mary Gates Hall
When:
Every Thursday 1:00 - 4:00.
Admissions sessions
begin at 2:30!
For more information:
(206) 543-2550 or click
here
.
CREDITS
Megan McConnell
Editor
Jennifer Stock
Webmaster
Contributors:
Susan Inman
Megan McConnell
James Meadows
Connie Montgomery
Jessica Salvador
Theron Stevenson
Lani Stone
The Transfer eNewsletter is a project of the UW Undergraduate Advising Gateway Center.
Exploration Seminars make Global Study More Accessible to UW Students
By Theron Stevenson, Director of International Programs, UW Comparative History of Ideas
If you have ever thought that study abroad sounds like a great idea, but it's not for you, you may want to think again. The University of Washington Exploration Seminars are designed to make global study more accessible to a larger group of students than ever before.
Scheduled between the end of summer quarter and the start of autumn quarter, these short (usually four-week) programs allow students to earn five credits abroad and still stay on their academic track without missing sequential classes or graduating late. And while they may be short jumps into the pool of international study, they are most certainly not on the shallow end! Each program has been designed around focused, engaging questions about our world. Thus one program will have students gathering geological data on the volcanoes of the Canary Islands, another has students exploring sustainable business practices in Thailand and Cambodia, while yet another requires students to explore the neighborhoods of Belfast, looking for the ways that Northern Ireland's troubled history remains alive today. In all there are 33 Exploration Seminars in five continents planned for early fall of 2007, each directed by UW faculty covering virtually any academic interest.
Because the goal of Exploration Seminars is to make global study more widely available, very few of them have any prerequisites, none have language requirements, and students from all areas of study at all three University of Washington campuses are eligible to apply. Recruitment started at the beginning of winter quarter, and has now opened up to non-matriculated, graduate, and incoming transfer students. Because participants will earn fall quarter UW credits, students who are eligible for Federal Financial Aid may apply for increased aid to pay for the Seminars. Also, any UW student can apply for the Office of International Programs and Exchanges study abroad scholarships.
The first Exploration Seminars took place in 2003, organized in partnership with the College of Arts and Sciences, the Office of International Programs and Exchanges, and the Comparative History of Ideas Program, joined more recently by the UW Office of Global Affairs. All parties involved share an appreciation for the ways that study abroad can change the way students see the world and also themselves. As one veteran of a 2006 Exploration Seminar wrote, "this trip made me think critically about my position as a global citizen and what I can contribute to the world to positively affect and change it."
Applications will be accepted until the end of winter quarter, but the selection process has already begun, so it is a good idea to apply sooner than later. The Exploration Seminar website has pages of information, including a description of each Seminar, along with contact information for all of the Program Directors, each of whom welcomes your inquiries about his or her Seminar. General inquiries can be directed to explore@u.washington.edu.